Our engineers have been hard at work over the past several months making some improvements to the current model of Gigabot, and we are excited to announce that we will be releasing this new version this fall.
In October 2015 we will release what you may hear us refer to as "GB3," or the third generation of Gigabot since its inception.  With this new version will come several tweaks and additions, the full list of which is below. We took the first of GB3 model to Roosterteeth today were it will be undergoing extensive field testing over the next two months. This Gigabot will also be filmed so we can release detailed 360 footage to you prior to the official release.
Current Gigabot-owners, not to worry – you will not be left behind.  All the alterations and additions will be available as retrofit kits so that anyone can upgrade their current Gigabot.  We want to ensure first and foremost that you are taken care of, so we will be making these retrofit upgrade kits available for purchase to you before we begin offering GB3 to the general public.
With these changes and additions comes an increase in the current price of Gigabot.  We want to give as much advance notice as possible about this, so our first priority is getting this message out.  Unfortunately this means that at this time we do not have finalized prices on the new Gigabot or the retrofit kits, however as soon as we do we will put out that information.
We are excited for the community to get their hands on the new and improved Gigabot, and we look forward to hearing what you think of it!  Please don't hesitate to contact us with any questions at sales@re3d.org.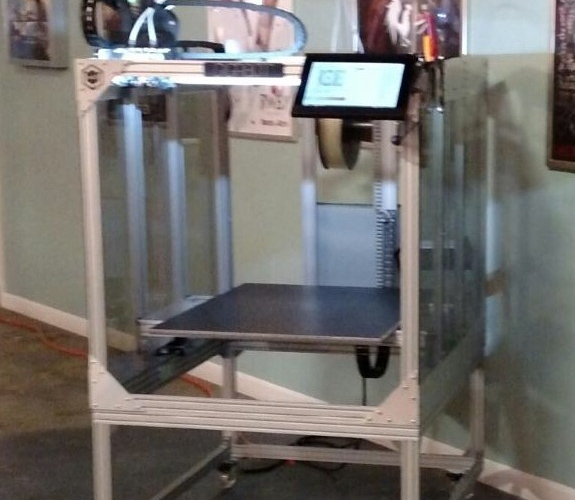 New Gigabot Changes/Additions
Ready for dual extruders (base model with single extruder)

Extruder with all-metal gearbox

All-metal E3D hotend with 0.4mm nozzle

Thermocouple temperature sensor instead of thermistor

Out-of-filament detection

Cable tray wire management for better print quality and increased reliability

Partial side panels standard

Viki 2.0

More accessible power switch and bed height adjustment

Optional tablet holder
Starting 1st September These Configurations Will Be Listed for Sale:
GB3 Variants

GB3 Single Extruder Kit

GB3 Dual Extruder Kit

GB3 Single Extruder Fully Assembled

GB3 Dual Extruder Fully Assembled

GB3XL Single Extruder Fully Assembled

GB3XL Dual Extruder Fully Assembled

All of these variants include:

Filament Detection

E3D Hot End (Thermocouple Included)

Cable Carriers and mounts

Power Button Relocation

Z-Limit Switch Relocation

Center Panels

Viki 2.0

Viki Holder
These Current Gigabot (aka GB2 : Pre-Oct1 2015 Gigabots) To GB3 Retrofit Kits will also be offered:
GB2  and GB2 XL upgrades

GB2 & GB2 XL Cable Carrier Upgrade

Includes:

Cable Carrier

Printed parts

Trolley electrical box cover

X/Y Upright

X carrier supports

Y carrier supports

Z bed side bracket

Z frame side bracket

Head cable

Extruder motor cable

X motor cable

X limit switch cable

Nuts and bolts

GB2 & GB2XL -> GB3 & GB3XL Single Extruder Upgrade

Includes a redesigned cold and assembly as well as the retrofit kits below:

Filament Detection

E3D Hot End (Thermocouple Included)

Cable Carriers and mounts

Power Button Relocation

Z-Limit Switch Relocation

Center Panels (An $85 discount will be applied for customer who already possess center panels)

GB2 & GB2XL -> GB3 & GB3XL Dual Extruder Upgrade

Includes a redesigned cold and assembly for a dual extruder as well as the retrofit kits below:

Filament Detection

E3D Hot End (Thermocouple Included)

Cable Carriers and mounts

Power Button Relocation

Z-Limit Switch Relocation

Center Panels (An $85 discount will be applied for customer who already possess center panels)
| | |
| --- | --- |
| GB3 Single Kit | $8,550.00 |
| GB3 Dual Kit | $8,950.00 |
| GB3 Single Extruder Fully Assembled | $10,950.00 |
| GB3 Dual Extruder Fully Assembled | $11,950.00 |
| GB3XL Single Extruder Fully Assembled | $12,950.00 |
| GB3XL Dual Extruder Fully Assembled | $13,950.00 |
 Retrofit Options for Current Gigabot Owners
| | |
| --- | --- |
| GB2 Cable Carrier Upgrade (Standard & XL) | $395.00 |
| GB2 to GB3 Single Upgrade (Standard & XL): Includes Out of Filament Detection, Power Switch Relocation, Cable Carrier Upgrade, Z Limit Switch Upgrade, Center Panels, Pre-assembled & Improved Hot/Cold End | $1,295.00 |
| GB2 to GB3 Dual Upgrade (Standard & XL): Includes Out of Filament Detection, Power Switch Relocation, Cable Carrier Upgrade, Z Limit Switch Upgrade, Center Panels, Pre-assembled & Improved Hot/Cold Ends | $1,695.00 |
| | |
| --- | --- |
| Second Extruder Drop in hardware | $495.00 |
| Viki 2.0 (only needed by GB2 owners) | $295.00 |
| Filament Detection (1 Left or 1 Right) | $75.00 |
| Z-Limit Switch Relocation | $95.00 |
| Center Panels (Fit all GBs) | $125.00 |
| GBx Front and Rear Panels | $185.00 |
| GBx All Panels | $300.00 |
| GBxXL Front and Rear Panels | $220.00 |
| GBxXL All Panels | $325.00 |
| Power Re-location switch | Only Available in Single and Dual Upgrade Packages |
| Wheels Kit Low-6''  (Tall-16'') | $200.00 ($350) |
| Wheels Kit XL Low-6'' (Tall-16'') | $225.00 ($375) |