This week re:3D heads to Hong Kong & China as part of the RISE START program and Converge, a reward for winning the Collision PITCH competition in May. While there, Ernie and Matthew will be announcing our Great Big Gigabot Giveaway. Below is a summary of the Journey that began at Websummit in Europe and led our social enterprise to Asia for the first time. 
In the heart of Dublin, Ireland on November 4th through the 6th 2014, Web Summit, which has been called "the best technology conference on the planet" had a Pitch competition for startup companies. Presented by the Coca-Cola Company, it brought together 200 of the world's most promising startups for 3 days of pitching, 4 stages, 150+ judges, great prizes and much more. The competition included companies from 36 countries, coming to Dublin to pitch some of the world's best investors, media and founders.  PITCH was open to any startup that has received under $3 million in funding to date and has not had a discernible change in business model in the previous 3 years. After 2 weeks judging over 1,500 applications, the Web Summit judges chose their top 200 companies to pitch during Web Summit. re:3D qualified to join the PITCH BETA group and then proceeded to win the Monday BETA Group 5, followed by the early afternoon semi-finals on Tuesday. Thursday, re:3D secured first runner up in the finals which involved pitching to 4000 people live.
Afterwards re:3D had the honor of  meeting the "Prime Minister" or Taoiseach Enda Kenny who took a selfie with our traveling 3D printed stool.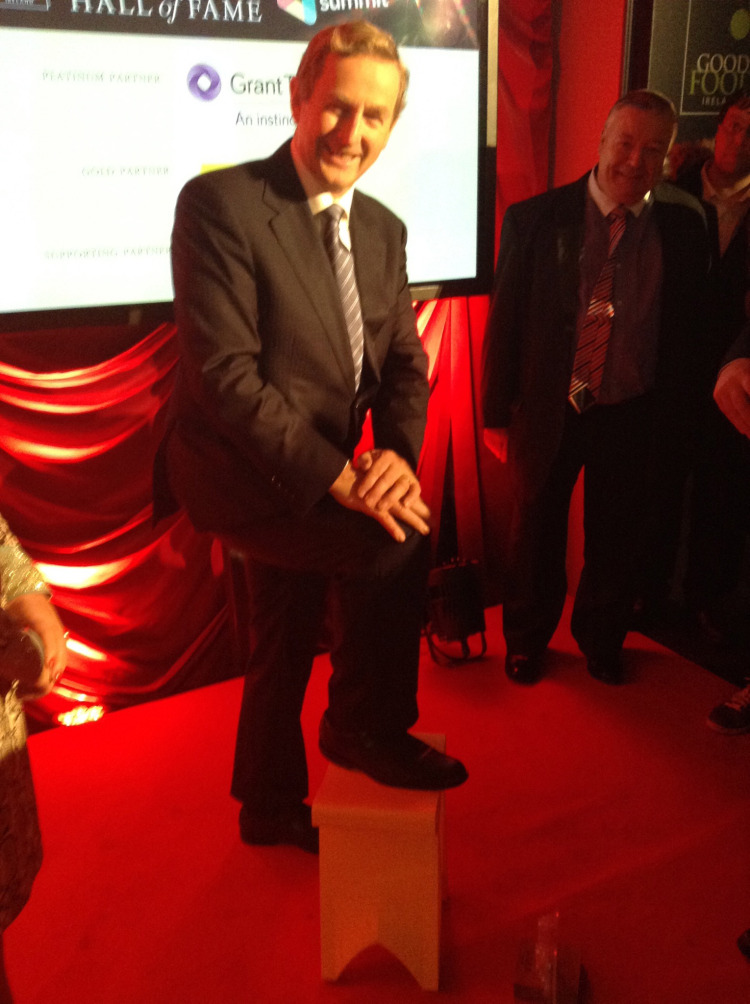 Fast forward four months later we had the privilege of meeting Enda Kelly again at the SXSW 2015 IDSA Breakfast!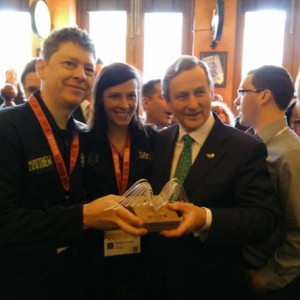 Less than 8 weeks later, the Web Summit team brought Collision to the United States. Two days of pitching across two stages in front of a diverse panel of judges, PITCH has given 60 of the most promising startups exhibiting at Collision a platform to tell their story. The three finalists pitched on Center Stage to a panel of three judges and a packed audience where re:3D won the title of Collision PITCH winner 2015.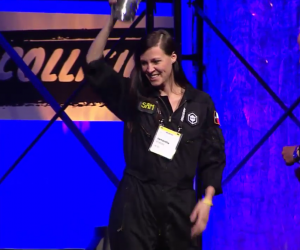 The team at re:3D was honored to be a winner and 2 time finalist of the Web Summit Series which they leveraged to share a vision to 3D print from recyclables. With such a talented group of finalists, being recognized at all was a true honor. re:3D was established in early 2013 and in less than two years has accomplished more than many organizations that are much older. Through the power of crowd funding, the Company has been able to develop the Gigabot—an affordable, human-scale 3D printer. 3D printing is quickly becoming one of the most talked about innovations in the world of business and manufacturing today so it only makes sense that re:3D was able to become a winner in the PITCH campaigns. However, it took months of hard work and effort—paired with good fortune at the event—to help re:3D win Collision's PITCH competition. The re:3D team hopes that with the recognition and awards received from participating in the Pitch events, that they will be able to make the ability to 3D print from waste a success story.
The company appears to be on target to revolutionize 3D printing as since COLLISION they have sustained growth despite being proudly bootstrapped participants of the indie.vc program. With this accomplishment, they are pleased to announce during the RISE START exhibition that they will be giving away a 3D printer to a group trying to make an impact through 3D printing.
You can learn more about the opportunity and Matthew & Ernie at stand number S106-1 in the START Area on Day 2 of the event, Saturday, August 1 or find Matthew as he participates in Converge.Asia.
re:3D welcomes groups around the world to apply and continue the conversation on how human scale 3D printing can make a difference. You may learn more about applying here.
We can't wait to see who applies and to collect valuable feedback in Asia!
Visit re:3D online at re3d.org or connect on Facebook and/or Twitter to learn more about the exciting innovations and our 1 for 100 giveaway program. Questions may be directed to samantha@re3d.org.