Hey cat lovers! Do you have a feline furbaby? What about two? Maybe three? How about four?
Meet Julie Causse and her husband Guillaume Lecomte, the proud cat parents to Lucky, Isis, Naya, and Enja: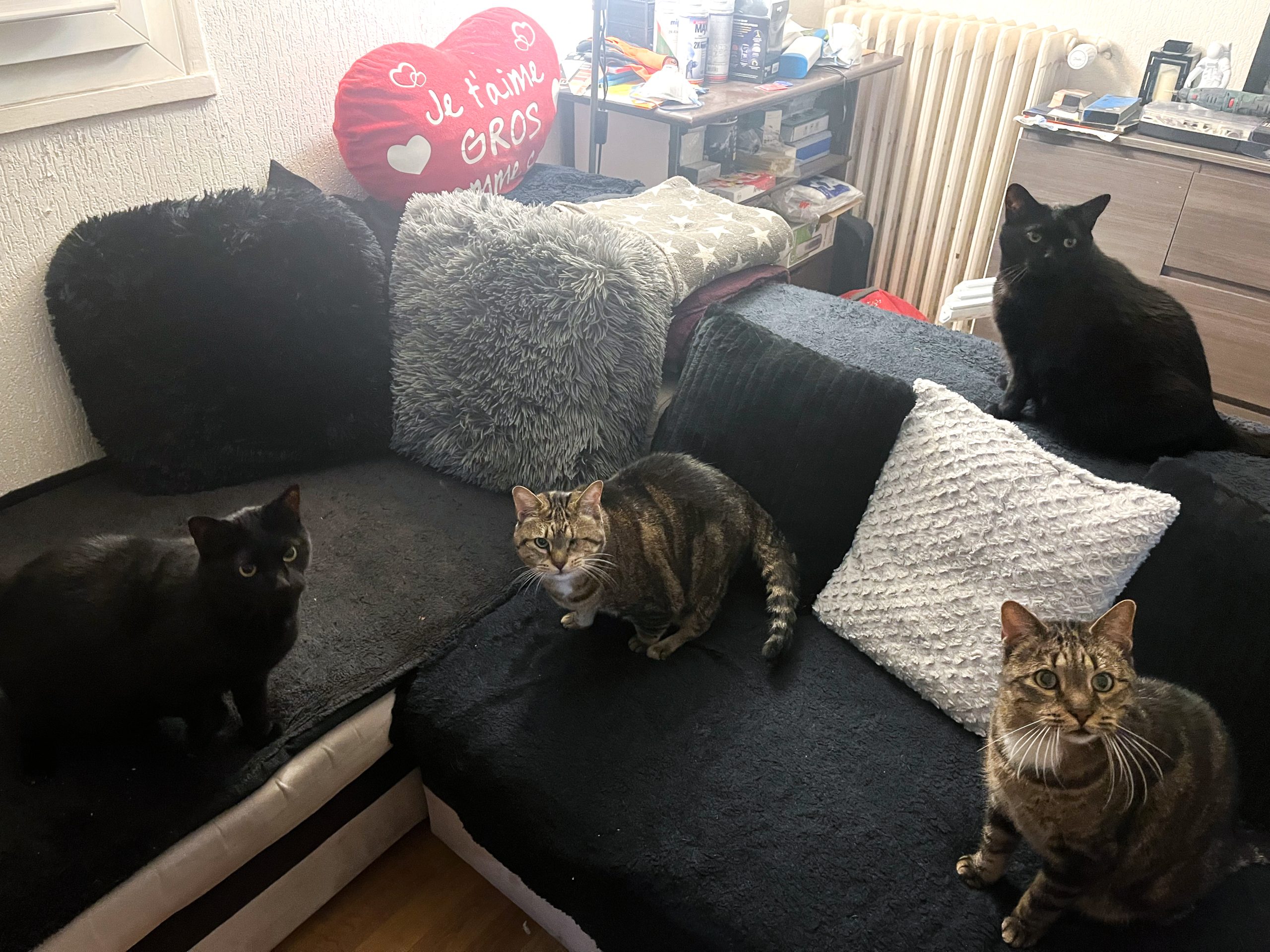 You might be thinking, "Wow, that is a LOT of cats! They must go through so much food and kitty litter… I would not want to clean up that litter box!" Julie and her husband will tell you, "Yes, we agree!" That's where re:3D came in…
In 2016, Julie began looking for an automated litter box to purchase, specifically one that would clean the litter by collecting all excrement into a separate container that could be emptied in batches, instead of scooped out by hand every day. Julie couldn't find one, so she decided to make it herself.
Through her research, Julie realized that 3D printing might be a good solution and came to the conclusion that she needed a large-format 3D printer, rather than a desktop-sized machine, to make her automated litter box. She and her husband found re:3D online and purchased our unassembled Gigabot 3D printer kit, which ships in separate, smaller flat-pack boxes. The Ikea of Gigabots, if you will. Because Julie and Guillaume live in France, the Gigabot 3D printer kit was not only more affordable for them, but easier to receive overseas than a fully assembled Gigabot. Once received, they built their Gigabot in their one-bedroom apartment, which is also home to four cats and two adults, but they make it work! They lovingly call their apartment their workshop. Samantha Snabes and Matthew Fiedler, two of re:3D's co-founders, were honored to visit them and their cats in France, after speaking at "Hello, Tomorrow" in 2017. Samantha fondly remembers, "Julie and Guillaume embody the can-do, problem-solving nature of so many of our Gigabot owners. It's been so exciting to see how they tackled this challenge and to keep in touch with them over the years."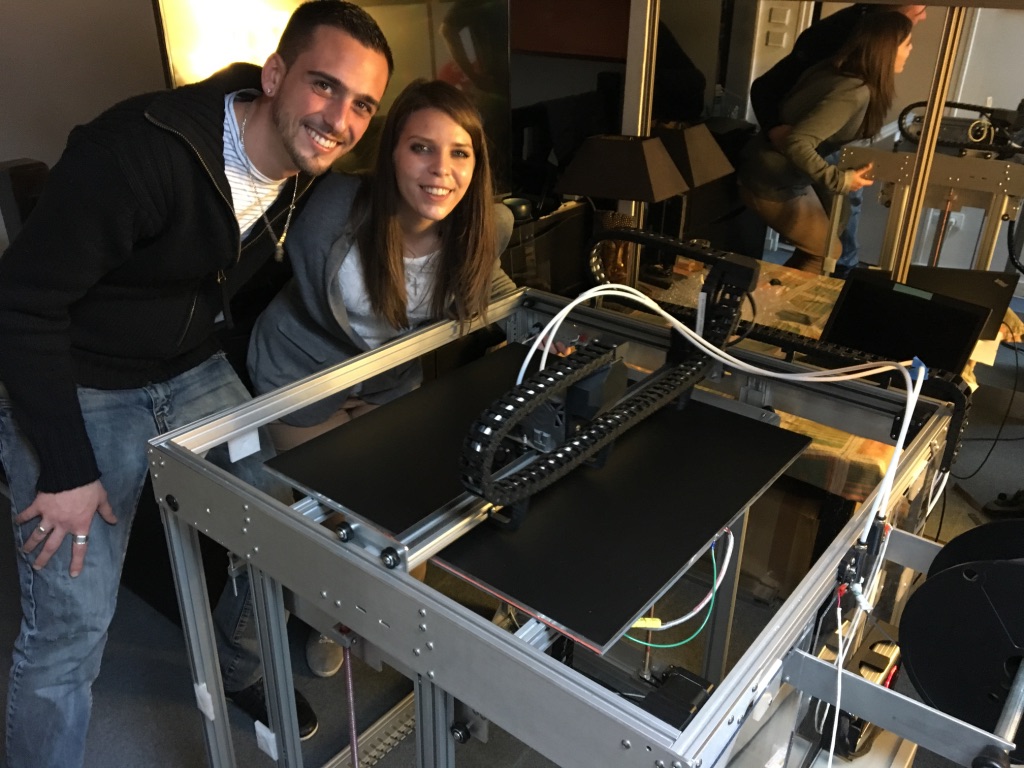 Since then, Julie has continued her work on the automated litter box. Julie taught herself how to design CAD files and slice prints with Onshape. Having previously worked in office administration, Julie decided to go back to school, learned how to code, and is now a full-stack web developer! Her friend, Alex Guitton, also a software engineer, has been helping Julie program the litter box's motors and sensors.
During the pandemic, Julie and Guillaume kept busy during lockdown by 3D printing logos for companies. Julie would design the logos and print them with PLA. Guillaume would post-process the logos, sand them to be smooth, and spray-paint them to the company's color palette. A perfect team! They started by printing logos for their friends with businesses and then reached out to French social media influencers, creating eye-catching pieces they shared with followers. A few of the companies Julie and Guillaume printed logos for were Bbryance, dental hygiene and whitening specialists, SY&ME, a designer shoe brand designed by women for women, and Affranchis Music, a record label founded by French rapper Sofiane.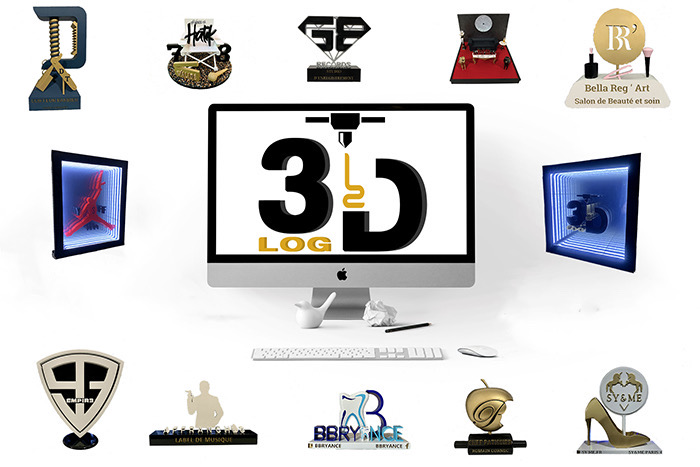 While Julie and Guillaume have since taken a break from 3D printing logos for businesses, they are in the process of making one more for re:3D, and we could not be more excited! Julie is continuing to work on her automated litter box and hopes to print a complete prototype this year. When it's finished, we will be sure to get the scoop!
If you would like to contact Julie and Guillaume about their automated litter box or logos, you can email them at log3d@outlook.fr or direct message them on Instagram @3d_log or Facebook @3D LOG.
Le Catalyseur : la crise du chaton suscite l'innovation chez le propriétaire du Gigabot
Hé, amoureux des chats! Vous avez un félin? Et si vous en aviez deux? Peut-être trois? Et pourquoi pas quatre?
Voici Julie Causse et son mari Guillaume Lecomte, les fiers parents des chats Lucky, Isis, Naya et Enja: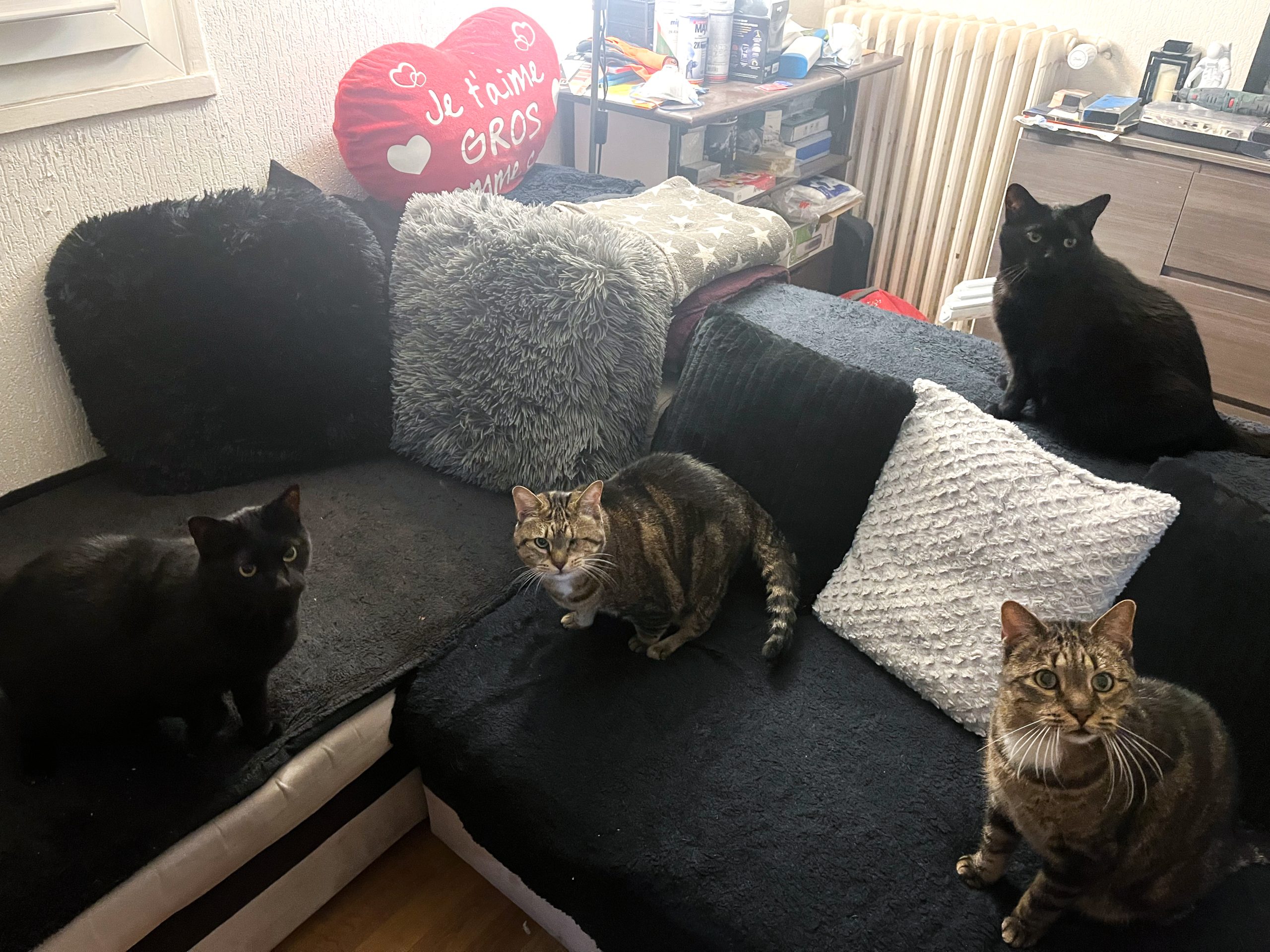 Vous vous dites peut-être: "Wow, ça fait BEAUCOUP de chats! Ils doivent consommer tellement de nourriture et de litière… Je ne voudrais pas nettoyer ce bac à litière!". Julie et son mari vous diront: "Oui, nous sommes d'accord!" C'est là que re:3D est intervenu…
En 2016, Julie a commencé à chercher un bac à litière automatique à acheter, plus précisément un bac qui nettoierait la litière en collectant tous les excréments dans un récipient séparé qui pourrait être vidé, au lieu d'être écopé à la main chaque jour. Julie n'en a pas trouvé, alors elle a décidé de le fabriquer elle-même.
Au cours de ses recherches, Julie a réalisé que l'impression 3D pourrait être une bonne solution et elle est arrivée à la conclusion qu'elle avait besoin d'une imprimante 3D grand format, plutôt qu'une machine de bureau, pour fabriquer sa litière automatique. Elle et son mari ont trouvé re:3D en ligne et ont acheté notre kit d'imprimante 3D Gigabot non assemblé, qui est expédié dans des cartons séparés et plus petits. Le Ikea des Gigabots, si vous voulez. Comme Julie et Guillaume vivent en France, le kit d'imprimante 3D Gigabot était non seulement plus abordable pour eux, mais aussi plus facile à recevoir à l'étranger qu'une Gigabot entièrement assemblée. Une fois le kit reçu, ils ont construit leur Gigabot dans leur appartement d'une chambre à coucher, où vivent également quatre chats en plus des deux adultes, mais ils y arrivent ! Ils appellent affectueusement leur appartement leur atelier. Samantha Snabes et Matthew Fiedler, deux des cofondateurs de re:3D, ont eu l'honneur de leur rendre visite, ainsi qu'à leurs chats, en France, après avoir pris la parole à "Hello, Tomorrow" en 2017. Samantha se souvient avec émotion : "Julie et Guillaume incarnent la nature capable de résoudre les problèmes de tant de nos propriétaires de Gigabot. C'était tellement excitant de voir comment ils ont relevé ce défi et de rester en contact avec eux au fil des ans."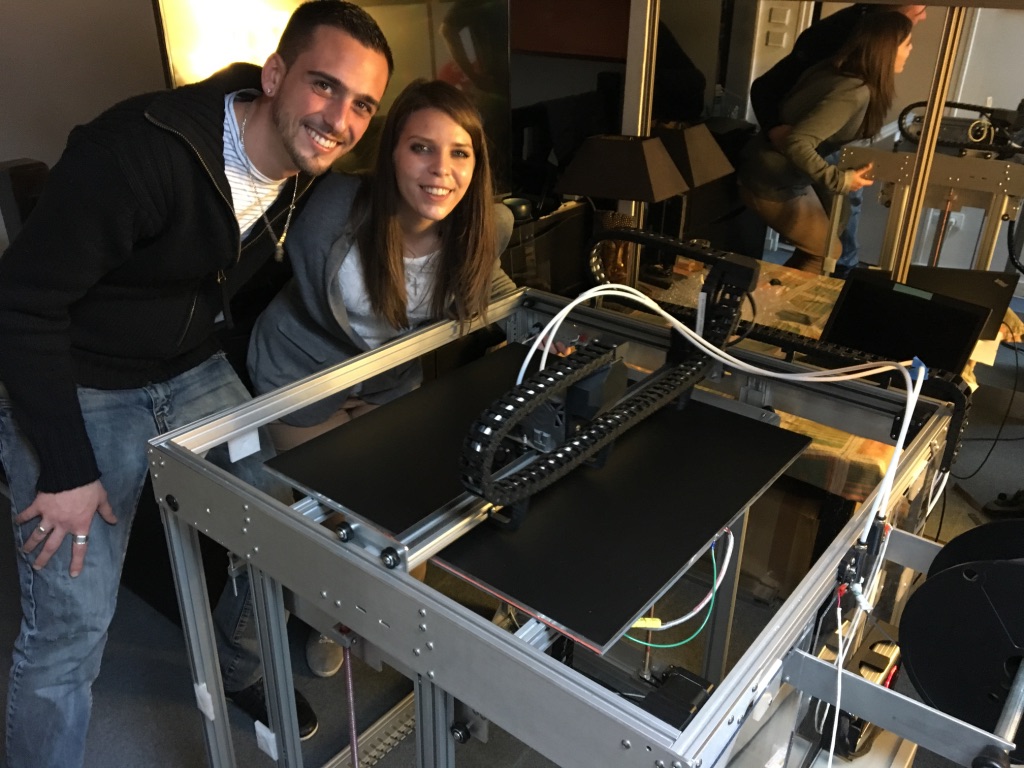 Depuis, Julie poursuit son travail sur la litière automatique. Julie a appris seule à concevoir des fichiers CAO et des impressions en tranches avec Onshape. Après avoir travaillé dans l'administration de bureau, Julie a décidé de reprendre les études, a appris à coder et est maintenant un développeur web complet ! Son ami Alex Guitton, également ingénieur en informatique, a aidé Julie à programmer les moteurs et les capteurs de la litière.
Pendant la pandémie, Julie et Guillaume se sont occupés pendant le confinement en imprimant en 3D des logos pour des entreprises. Julie concevait les logos et les imprimait avec du PLA. Guillaume se chargeait du post-traitement des logos, les ponçait pour les rendre lisses et les peignait à la bombe selon la palette de couleurs de l'entreprise. Une équipe parfaite ! Ils ont commencé par imprimer des logos pour les entreprises de leurs amis, puis ont contacté des influenceurs français sur les médias sociaux, créant des pièces accrocheuses qu'ils ont partagées avec leurs followers. Parmi les entreprises pour lesquelles Julie et Guillaume ont imprimé des logos, citons Bbryance, spécialiste de l'hygiène et du blanchiment dentaires, SY&ME, une marque de chaussures design conçue par des femmes pour les femmes, et Affranchis Music, un label fondé par le rappeur français Sofiane.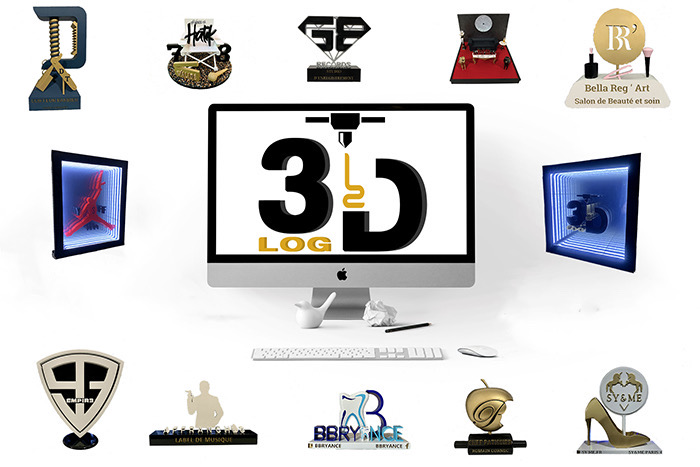 Si Julie et Guillaume ont depuis fait une pause dans l'impression 3D de logos d'entreprises, ils sont en train d'en réaliser un autre pour re:3D, et nous ne pourrions pas être plus enthousiastes! Julie continue à travailler sur son bac à litière automatique et espère imprimer un prototype complet cette année. Lorsqu'il sera terminé, nous ne manquerons pas de vous tenir au courant !
Si vous souhaitez contacter Julie et Guillaume au sujet de leur bac à litière automatique ou de leurs logos, vous pouvez leur envoyer un courriel à l'adresse log3d@outlook.fr ou leur envoyer un message direct sur Instagram @3d_log ou Facebook @3D LOG.