re:3D's Research and Development team never stands still, and while we're developing the next generation of your Gigabot® and Gigabot® X 3D Printers, we're continually looking for ways to refine the current iteration's user experience, precision, and quality. As of October 1, 2019, all new Gigabot®3+ 3D printers ship with the below enhancements. Current Gigabot® owners can order these as replacement parts that are fully compatible with previous versions.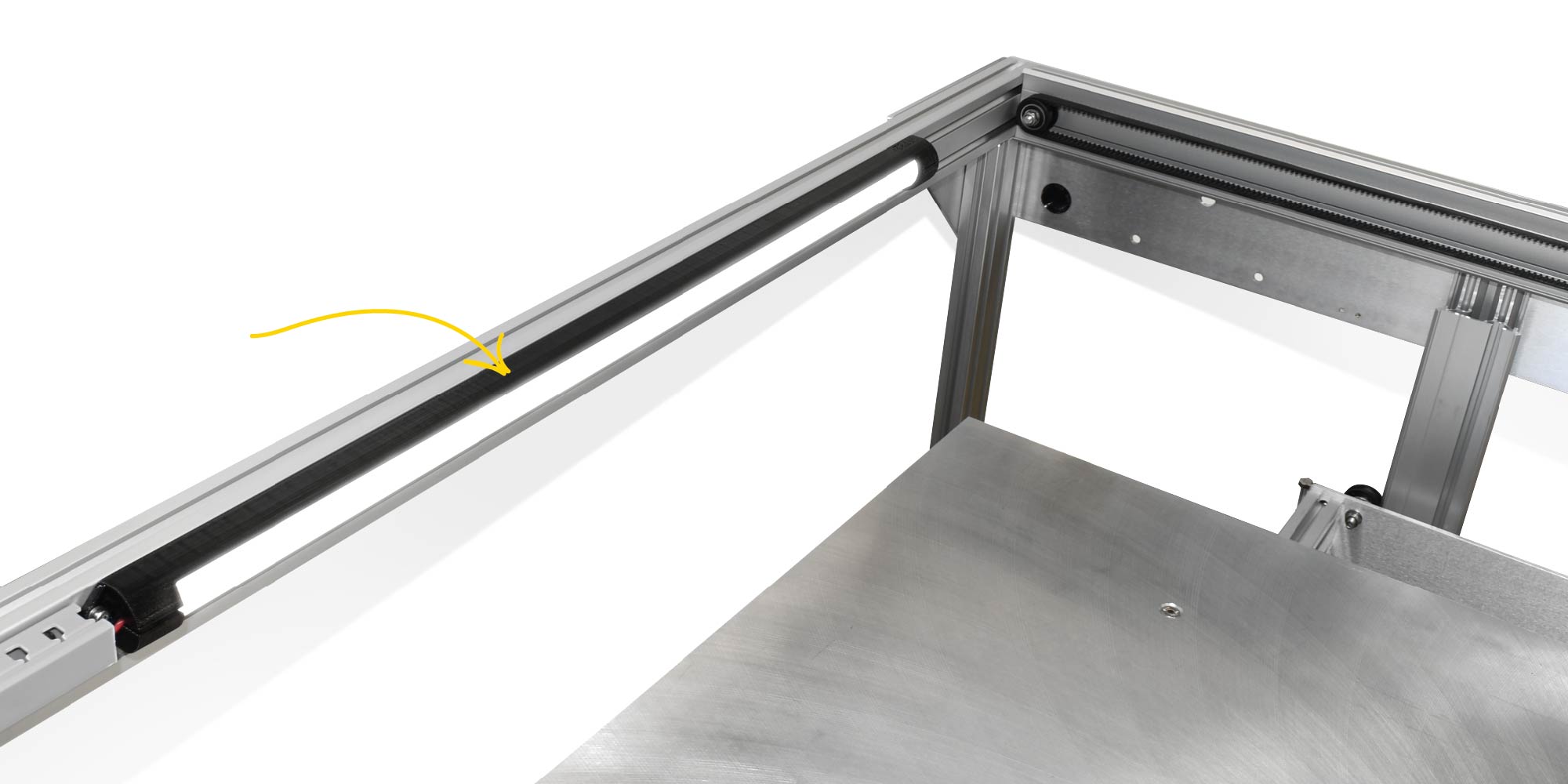 To enhance user comfort and safety, we've created a full length 3D printed cover that fits over the top of the front-mounted LED light strip.
Printed Extruder indicators and part numbers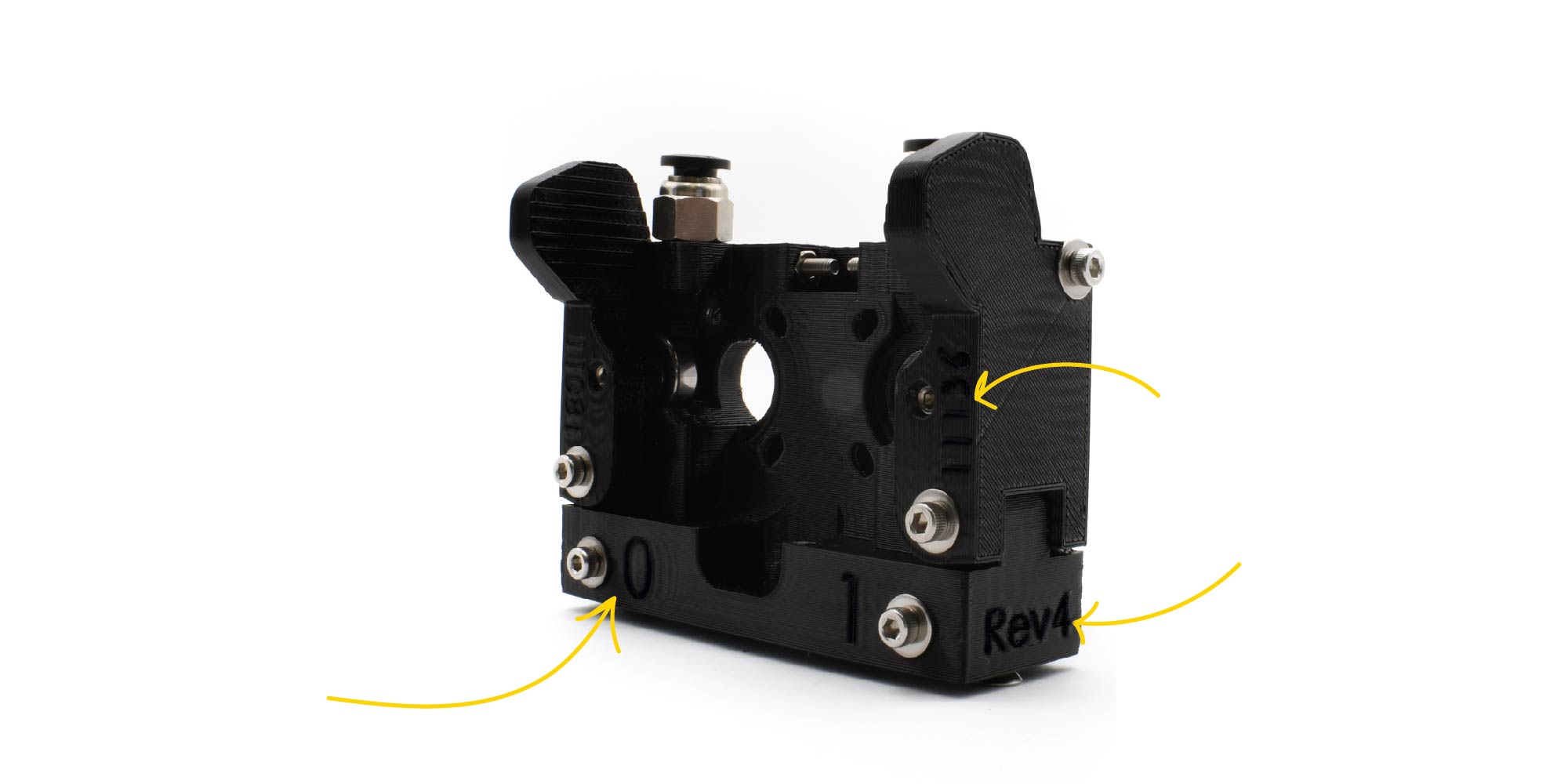 Our Unibody Extruder design, which was released this past spring, as well as our Filament Detection units now features numerical hot end indicator labels for a visual aid for filament loading. Additionally, these and many other 3D printed parts now include part and revision numbers. Not sure what a part is called? Search our store using the part number or share the part number with customer support to help streamline troubleshooting communication.
FIRMWARE RELEASE VERSION 4.2.3
Our newest iteration of Gigabot®3+ firmware has been posted at re3d.zendesk.com along with instructions for how to flash your firmware. This firmware update includes the following changes:
Increased electrical current to X and Y motors to prevent layer shifts.

Decreased filament feed rate during the Filament Change routine for easier purging.

Minor Bug Fixes
Fit and Strength Adjustments for Polycarbonate 3D Printed Parts
The following parts have had material added for improved strength and durability:
10870 Extruder Tensioner Left 

10871 Extruder Tensioner Right 
The below parts have had their designs modified for better fit or print quality:
11157 Gigabox Magnet Bracket 1 

11245 Gigabox Magnet Bracket 3

11158 Gigabox Magnet Bracket 4

11159 Gigabox Y Support Magnet Bracket

11238 Gigabox Enclosure Corner Cap

10511 XY Upright Cover

11251 Filament Detection Cover Right

11252 Filament Detection Cover Left

10599 Filament Tube Connector
We've upped the durability and longevity of our head cable and added 3D printed wire separators inside the cable carrier to protect the electrical wiring as it rolls and unrolls during normal Gigabot® operation.
Under the category of non-3D printed parts, we've thickened our bed plates to improve strength and rigidity. The square, left and right leveling blocks attached to the bed frame have had fit adjustments. We've also adjusted hole spacing for Gigabox Enclosure panels and split the top panel on the Gigabox Enclosure into two pieces. This improves manufacturing quality as well as increases modularity, as one piece can now be removed for venting or other customizations.
Do you have an improvement or a design change you'd like to see for this or future versions of Gigabot®? Fill out our New Feature Request form and share your ideas with us!