The following post was written by Todd Ronan. Todd joined the re:3D sales team after hearing a Co-Founder panel discussion on 3D printing & recyclable material at IEEE. From Michigan, parts Northwest, and now Austin (Portland's si(hip)ster city) he is a Futurist, passionate about evolving technology, dreamer, and enthusiast of fine meade.
The thousand year old lost wax casting process has been revolutionized by the Human-Scale 3D printing of Gigabot
Several re:3D customers have augmented their foundries with Gigabot 3D printers because of the time savings, cost savings, and ability to convert more jobs into happy customers.
In traditional investment casting, a wax model is dipped into a ceramic slurry which is then allowed to dry. The resulting hard ceramic shell is then heated to melt the wax away, leaving a perfect model negative where the wax used to be.
Modern foundries however, have been making the move to 3D printing as a means of creating models for casting. With the ability to use  PLA prints in place of the wax models of old, 3D printing provides a cost efficient alternative method for producing investment casting patterns.
In layman's terms: hot melted plastic can be printed in any shape, in any size, and allows for a cost efficient alternative to the traditional technique of lost wax casting.
In the past, 3D printers lacked the size to perform life-sized pieces and large format 3D printers, starting at $100K have been cost prohibitive. Enter re:3D's Gigabot at 1/10th the price. A 3D printer with an 8 cubic foot build space for super-sized 3D printed parts.
Anyone lucky enough to find themselves outside of Austin in Bastrop will notice the beautiful, large bronze pieces of art around the city. These are courtesy of a high-point on the Austin Cultural Map tour, Clint Howard's Deep In The Heart Art Foundry. Jamie and Clint Howard purchased the foundry in 1999, and have become the premier statuary design and manufacturing business in the state of Texas.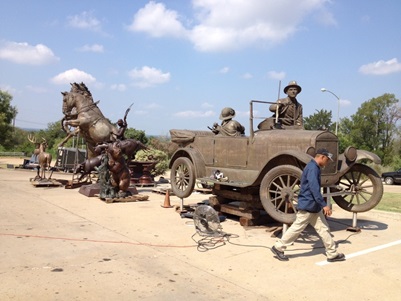 With demand for large pieces the foundry added a Gigabot FDM printer to their arsenal a couple of years ago. Instead of the long curing process associated with wax models, their Gigabot can make any design using standard CAD program, and print HUGE in PLA. It just so happens that PLA burns out just as clean as wax! The cost savings was almost immediate – cutting months and thousand of dollars off traditional casting allowing for increased bandwidth for contract pieces, and substantial revenue increase. With increased demand for printing, Deep in the Heart ordered a second Gigabot printer to keep up with the demand.
Another re:3D satisfied customer: family owned and operated Firebird 3D, located in Troutdale Oregon, recently participated in the Columbia River Highway centennial celebration.  Parts on this Model A (shown below) were Gigabot printed and cast along with this Rip Caswell piece, Devoted Passion, a re-telling of the exploration and creation of this amazingly scenic Pacific Northwest highway.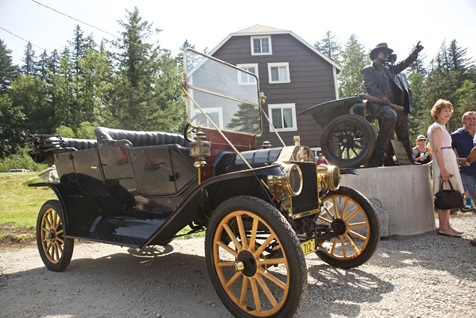 At Firebird they still use their traditional processes of wax casting but can use wax filament or PLA to print larger bronze pieces. It burns out, leaving a small amount of ash in the shell mold, which can be removed with washing. 3D printed PLA plastic burns out cleanly and is a more durable and more easily handled than a wax part. Chad Caswell (shown below) checks the layer height of their next print. They are, literally and figuratively burning through filament with a cost savings up to 70% by reducing labor!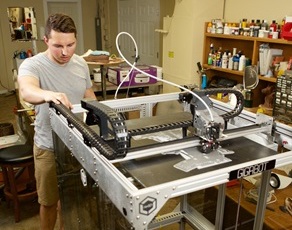 We just got word Deep in the Heart purchased a 3rd Gigabot to help with workflow and high demand, and now has three 8 cubic foot 3d printers printing (money) while their workers sleep.
re:3D urges: Try a FREE print on us. Find out if Lost Wax (minus WAX + PLA) works for you! Please contact Todd@re3D.org for additional info on Gigabot 3D printers and lost wax castings!