The following articles were originally posted by NASA on nasa.gov. You may recognize a familiar machine in the video at 1:24
August 19, 2019 – 3D Printing and the Future of Aeronautics
Today is National Aviation Day and progress is ongoing in the next evolution of air mobility – all thanks to emerging 3D printing technology.
This image of a full-scale model of Langley Aerodrome No. 8 is being constructed at NASA's Langley Research Center. The LA-8 model will to contribute to the agency's Urban Air Mobility (UAM) initiative. "It's definitely a new world with 3-D printing," said engineering technician Sam James, pictured here. "It's the future without a doubt."
About 80 percent of the model is built using 3D printers on center using nylon and polycarbonate, which allows engineers to change the wings, the fuselage and add other sections of the model such as propellers and computer hardware rapidly.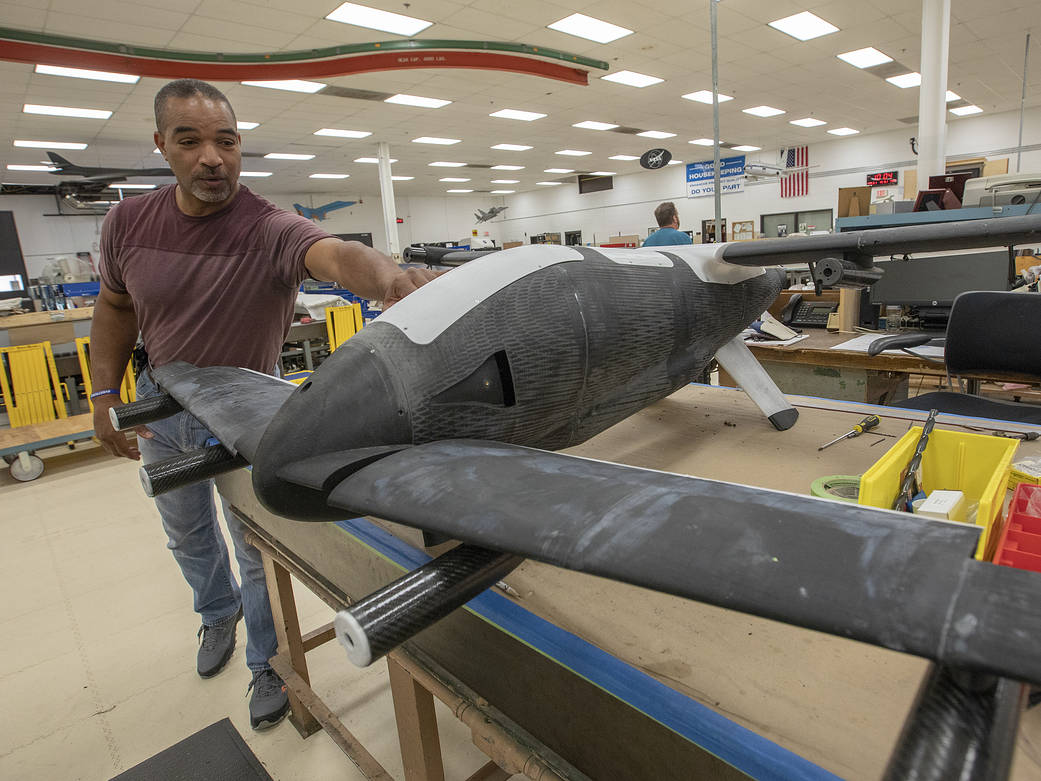 Since 1939, August 19 has been celebrated as National Aviation Day, the legacy of a presidential proclamation first made by Franklin D. Roosevelt to celebrate the birthday of civil aviation pioneer Orville Wright. At NASA, aeronautics is not only part of our name, it is an integral part of our mission. And, this year we're celebrating National Aviation Day on social media by highlighting some of unique and surprising ways our aeronautics research impacts your daily life. From innovative video games that help those with ADHD to using wind tunnels to test automobiles, ships and wheelchairs, explore all the ways NASA is with you when you fly–and beyond–by following us on Twitter, Facebook, and Instagram.
April 25, 2019 – Langley Aerodrome Created to Explore Urban Air Mobility
One of the keys to unlocking the future of Urban Air Mobility (UAM) is exploring how different technologies and configurations of aircraft will perform in the urban environment. To start gathering as much data as possible, NASA engineers are moving forward with their newest modular unmanned aerial system, the Langley Aerodrome #8.
"The project is called Advanced Urban Air Mobility Test Beds," said Dave North, Unmanned Aerial Systems Section Lead. "This is a new effort in aeronautics to look at urban flight, both unmanned flight like package delivery vehicles, all the way up to manned vehicles that may carry six or eight people at a time."
The new vehicle's namesake is not just because it was designed and built at NASA's Langley Research Center in Hampton, Virginia, but in honor of Samuel P. Langley who coined the term aerodrome when he named his series of unmanned aircraft in the late 1890s. Yes, before the Wright brothers flew at Kitty Hawk, Langley was flying "drones" over the Potomac River. His Aerodrome #5 flew for 90 seconds over a distance of half a mile.
"It seemed fitting to honor Langley's work as we explore unmanned systems," said North.
The LA-8 recently completed its first wind tunnel test in NASA's 12-foot Low Speed Wind Tunnel here at Langley.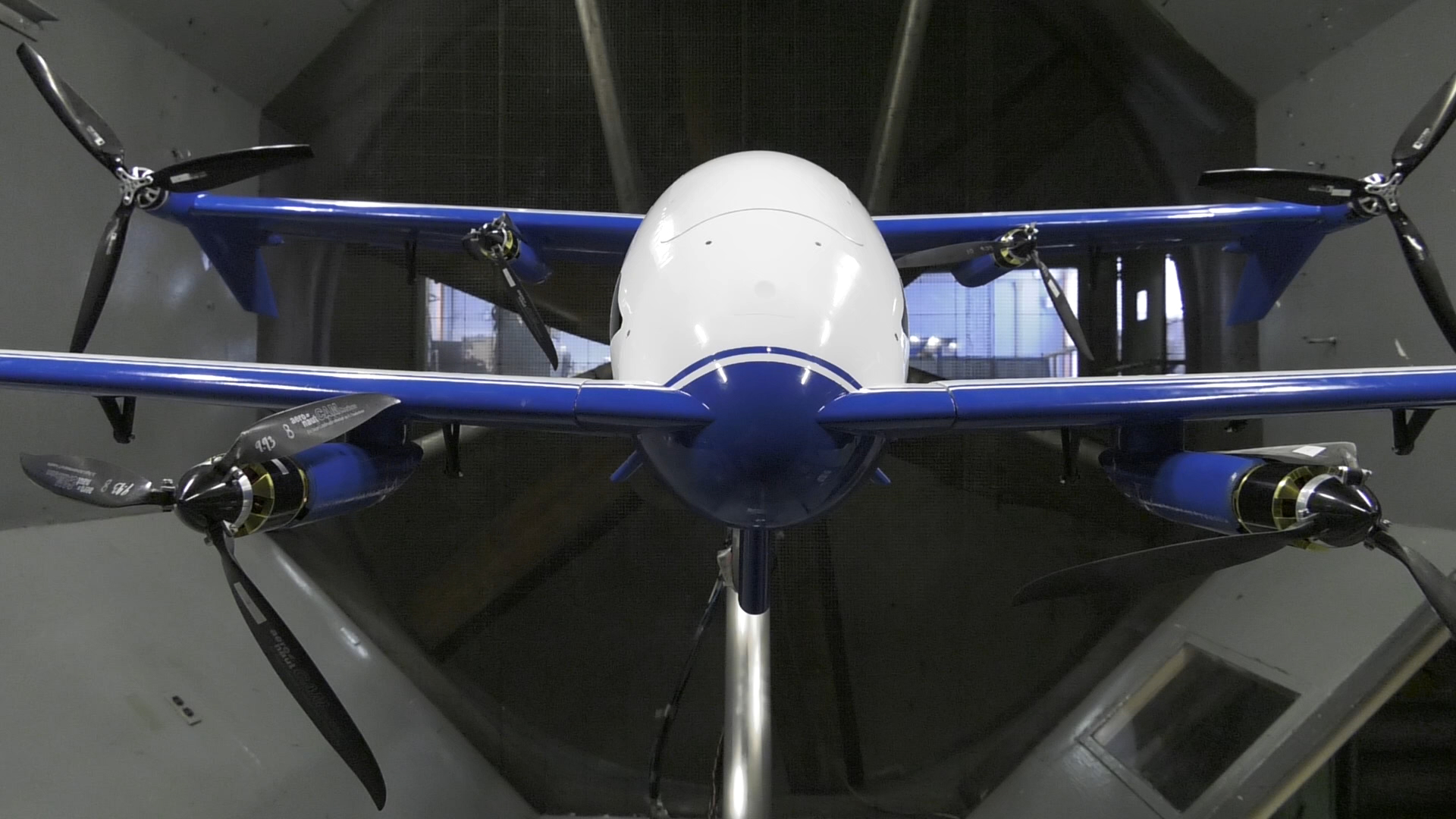 "This is all about getting the data and getting the process down so we can help the private sector accelerate the whole Urban Air Mobility effort," said North.
A popular concept for urban flights is known as electric vertical takeoff and landing, or eVTOL. Put simply, the aircraft can take off like a helicopter, hover, and then transition to fast forward flight like an airplane.
"That hand-off from hovering to forward flight is really difficult from a control standpoint," said North. "NASA is starting to look at these concepts and how you would fly them in the airspace, and how to help all these private companies get their vehicles certified, air worthy and safe to fly. So we're building these technology testbeds to investigate those things."
Collecting as much data as possible in a world where many different styles of urban aircraft are coming to life off the papers they were first designed on is the challenge. To accomplish this task the LA-8 is a modular vehicle that can have almost any part redesigned and swapped out for a different one thanks to computer aided design (CAD) and 3D-printing.
"The focus initially was to build as much of the aircraft as we could using 3D-printers," said Greg Howland, NASA engineer. "We go straight from the CAD file to getting it printed out. Less hands-on work for the parts."
Roughly 80% of the LA-8 is made from 3D-printed material allowing these engineers to change the wings, the fuselage and other sections quite rapidly.
"We've already figured out a lot of things that we would like to do a little different on the second and third models," Howland said. "So I'm making changes in the CAD files as we go along, and if you need replacement parts, you can almost just push a button and get a part printed out."
The continued redesign of the Langley Aerodrome will help NASA focus on making these types of vehicles safer and share that data with the private industry.
"How do you look at off-nominal conditions?" asked North. "Off-nominal meaning, what if you lost a propeller or motor, could you still control the vehicle and get it on the ground safely? Can you fly this in gusty winds? These are areas that we're building these technology test-beds for."
The capability to rapidly design, fabricate and test these types of new configurations was developed as part of the Transformative Aeronautics Concepts – Convergent Aeronautics Solutions (TAC-CAS) program. The project is also being funded by the Air Traffic Management – Exploration (ATM-X) and TAC Transformational Tools and Technologies (TAC-TTT) programs.
North said that they expect to have the LA-8 move from wind tunnel tests to flight tests by late August.
David Meade
NASA Langley Research Center