In 2014, Guy Chaifetz of West Palm Beach, FL had an idea: what if you combined the versatility of a rowing machine, with the full body workout from cross-country skiing, all while being able to enjoy ocean breezes outdoors on your paddle board. He'd been exploring this product idea for the last seven years, forging through multiple design iterations, overcoming investment hurdles and production stalls until recently, when he successfully launched the Supski Paddle System.
The Supski System attaches to a standard or inflatable paddle board and uses a sliding rail mounted with a modular pole and paddle. The versatile design allows the user to row their paddle board in a variety of positions, modifying their stance as needed to isolate muscle groups and achieve a full body workout. While producing his final prototype, Guy reached out to the re:3D Contract Printing team to 3D print a part he was finding too difficult and expensive to manufacture elsewhere: the Quad Rail Track.
Using the extra large bed of our Terabot 3D printer, re:3D manufactured the 64" rails in a series of 23 hour prints with white ABS filament.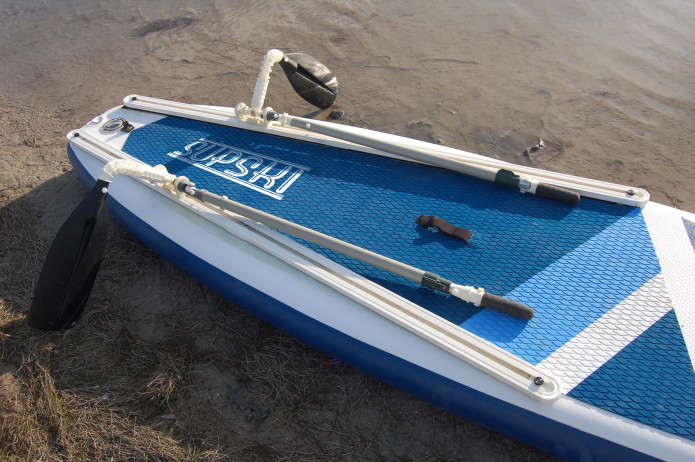 Supski Paddle System by Guy Chaifetz
It's been a long journey for Guy Chaifetz, whose professional background is in video editing and production. He debuted an earlier prototype at Surf Expo in 2015, but despite the positive response from attendees and beta testers, manufacturing hurdles held him back from releasing his product until now.
Guy believes that with the success of the Supski launch, he'll be able to share it in paraplegic communities to increase accessibility to paddle boarding. Additionally, a future add on includes a sliding chair for regular rowers. Guy hopes to host annual Supski paddle board races, and his ultimate goal would be to have the Supski be part of the Paralympic and Olympic Games.
Want a Supski of your own? Click here to find out how to order.
re:3D salutes Guy Chaifetz for his persistence and tenacity in bringing his dreams to market. If you have an idea you want to transform into reality, our Design and Contract Printing team are here to help you.
Happy Printing!
~Charlotte