Since the release of Gigabot in 2013, we've continued to push the build envelope: first Gigabot XL, then the XLT. Now there's a new machine to add to the portfolio, one that dwarfs its predecessors: Terabot.
Terabot is the latest addition to our fleet of large-format, industrial, fused filament fabrication printers.
Terabot was conceived out of a customer's desire to go bigger than what we offered at the time – much bigger. As more and more customers asked about build volumes up to 1m cubed, we decided it might be time to make this solution a regular offering in the re:3D lineup.
With a build platform of 915x915x1000mm, Terabot boasts 8,372,250 cubic centimeters of volume – over 20 times more than its closest relative (the Gigabot XLT, which stands at 590x760x900mm).
The size jump was done with those customers who had outgrown Gigabot's build volume in mind: the people who found themselves needing to break extra large prints into multiple sections and attach them post-printing. As Head of Engineering Matthew Fiedler puts it, "Face it, we don't want to gluing or bonding together all of our small 3D prints. We really need a machine that can print the full piece at one time." Terabot allows for the printing of massive parts without the need for any messy post-processing with glue or bondo.
As Terabot was modeled off the existing Gigabot platform, all the functionality our current customers already enjoy is built into this machine. With such a jump in size, however, our engineers made some critical design changes to allow it to run smoothly and reliably on massive prints.
The main new features on Terabot are as follows:
Linear guides on the X, Y, and Z axes
NEMA 23 X and Y stepper motors with closed loop control
Cast aluminum build plate with rigid nine point bed leveling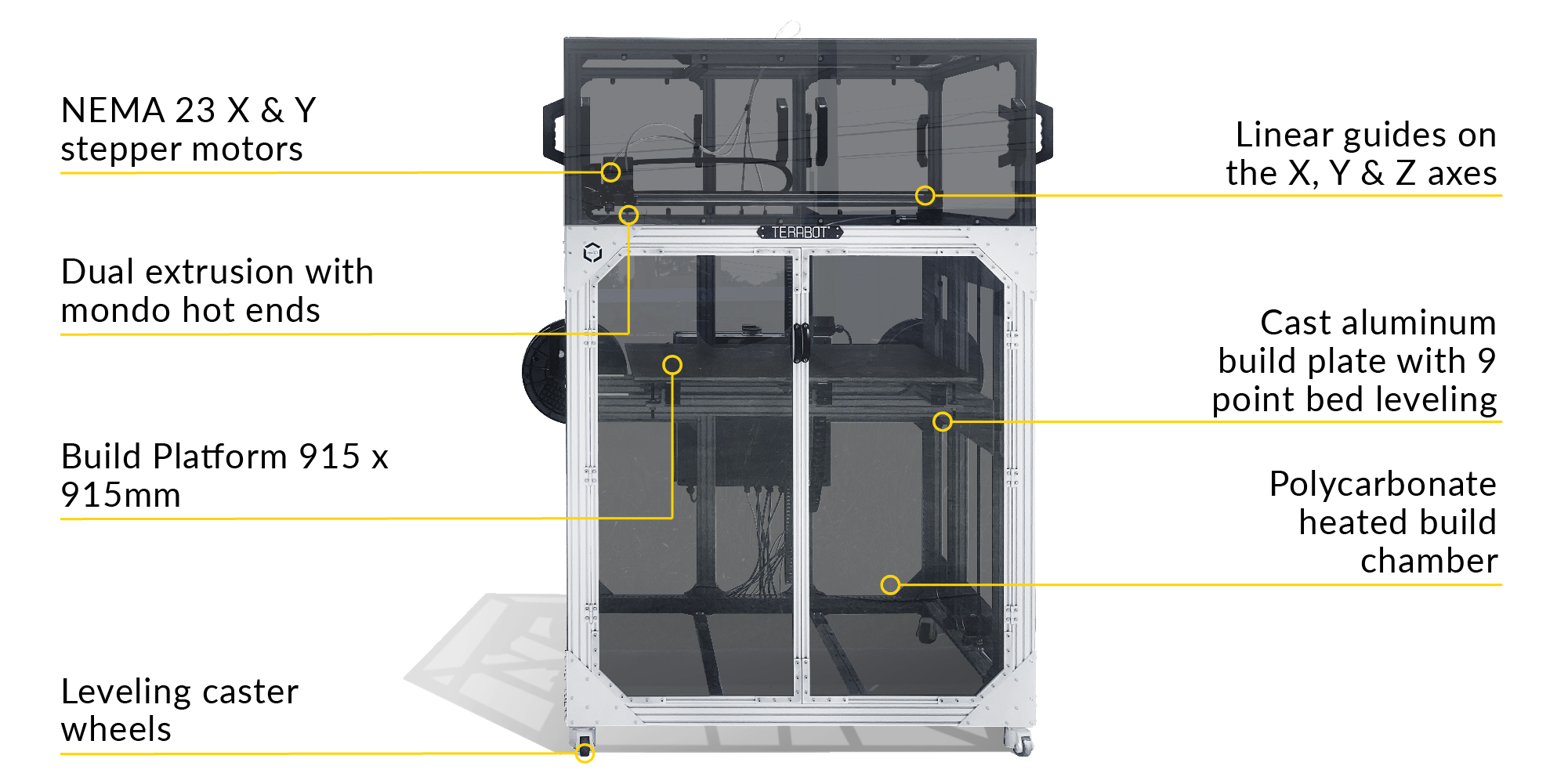 The reasons for these changes are several fold. The linear rails – compared with the v-groove wheels of the standard Gigabot – provide high rigidity, accurate and smooth motion on this extra large machine, coupled with a minimal need for maintenance. We sized up the NEMA 17 motors of the Gigabot 3+ to NEMA 23 on Terabot, to take advantage of their higher current and added power for the size of this build platform. They are also a closed loop system, meaning that the printer always knows the position of the print head. Lastly, the thick ½" blanchard ground cast aluminum build plate features a nine point bed leveling system for more precise leveling control on the increased surface area.
There are other slight changes to the machine to add to its performance, including new leveling casters and a beefier, 20-inch, 14 gauge solid steel electrical box which houses a higher 500 watt power supply as well as new closed-loop drivers for the motors. Situated above the electrical box on the rear of the machine are the main power disconnect, and the same Viki control panel as is used on Gigabot. There are also all the same features you may recognize from Gigabot, like dual extrusion and ditto printing, out-of-filament detection, and a heated bed. As with Gigabot, the aluminum frame of the machine is machined in-house to tolerances of less than .005 inches, and the ½ inch-thick aluminum bed plate is precision blanchard ground to within .003-.005 inches. All the moving cables of the machine are routed through the same cable carriers seen on Gigabot and are rated for over one million cycles of flexing. 
Every Terabot comes standard with a passively heated build chamber – equipped with removable, polycarbonate panels with magnetic closures and large access doors in the front – which can reach an internal temperature of 60ºC to enable the printing of high-temperature thermoplastics. The machine prints with the same 2.85mm filament as Gigabot, with an extrusion temperature up to 320ºC. Terabot is equipped with a high flow Mondo hot end with a 0.4mm nozzle, but also has the ability to print with 0.25mm and 0.8mm, all at a full speed of 60mm/s.
At $34,400, Terabot is an industrial machine that sits comfortably below the average industrial 3D printer price point. From our inception, we have strived for an intersection of cost and scale that opens the door to industries that have a need for the technology but maybe not the budget. Terabot enables huge printing at a cost that is affordable enough to add several machines to the factory floor. The Terabot community includes customers in manufacturing, art, aerospace, and design who have multiple Terabots in their production workflow, and we work to keep our prices at a level that enables just this.
We built this machine for the people like you whose eyes have been opened to the power of large-scale 3D printing and are ready for more. As we have done since 2013, we will continue to push the envelope so that you can continue to dream big and print huge.
You can purchase your Terabot on the re:3D store here, or email our sales team at sales@re3d.org to get more information.