Manufacturing a Greener Future

Large Scale 3D printing from Pellets or Regrind
After a successful Kickstarter campaign to launch the initial Gigabot X Pellet Printer.  re:3D, Inc is quickly moving forward with the optimization of print parameters and tensile testing the mechanical properties of four different virgin and recycled plastic pellets (PLA, ABS, PET, PP), as well as creating slicing profiles for each type of plastic.
These initial findings were recently released in the journal Materials, in partnership with Michigan Technical University and the lab of Dr. Joshua M. Pearce.  The article: Fused Particle Fabrication 3-D Printing: Recycled Materials' Optimization and Mechanical Properties can be accessed in it's entirety here.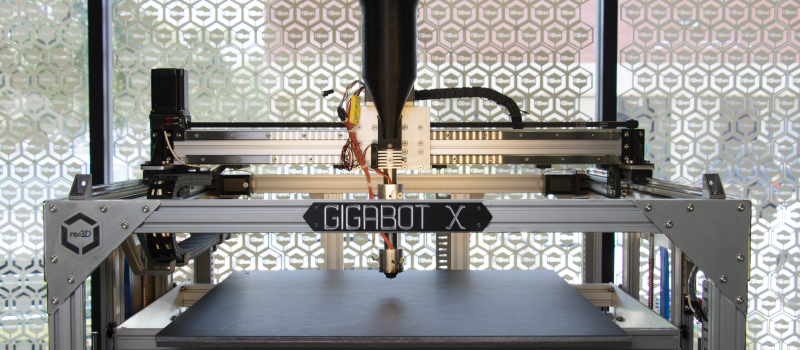 The results showed that the Gigabot X can print materials 6.5x to 13x

faster

than conventional printers…with no significant reduction in the mechanical properties
-Woern, et al, Materials 2018, 11(8), 1413
Now Accepting Deposits for Gigabot X
re:3D, Inc is now accepting $1,000 deposits for the post-Kickstarter, early beta release of the Gigabot X 3D Printer and the Gigabot X Pellet Printer Head Attachment.  Limited deliveries are expected to begin in Q2 2019, and the full amount of the deposit will go directly towards the purchase price of your Gigabot X.
For more information, or to make a deposit, email: sales@re3d.org
The re:3D engineering team is currently working to create a grinder, dryer, and feed system, so that the Gigabot X can become an all-in-one solution for printing from recycled plastics. To read more about the Gigabot X and it's evolution to date check out the blog post here.