The māk studio building is a rather nondescript structure in an industrial area just east of downtown Houston. It may not look like much from the outside, but the innards are a different story. This, in a way, is what they have the power to do for their clients, transforming a space that otherwise might pass by unnoticed into one that demands attention.
māk studio's tagline is simple and to the point: "Make design possible." They design, build, and manufacture beautiful spaces, functional objects, furniture, and surfaces tailored to commercial brands. The design doesn't just stop with the structural design, as mentioned more below, interior design is a factor too. The use of such designs as Fine Art America posters, wall art, paintings, eye-catching color, etc. is very important and can give a certain feel to an area.
The founders, Liz Cordill and José Aguilar, met while practicing architecture in 2013, and have spent nearly three decades between the two of them as practicing architects. They began hitting roadblocks, however, when it came to actually fabricating some of their more complex ideas.
"There was this disconnect between the design industry and the construction industry where the design industry was developing these really cool concepts and the construction industry was not quite keeping up," explains Aguilar. "We found an opportunity there to really focus on that niche and just offer that as a design and fabrication service."
māk was their answer to this hurdle.
"We started this business – José and I – because as practicing architects we were finding that some of the things that we were designing, the technology wasn't there to fabricate it," says Cordill.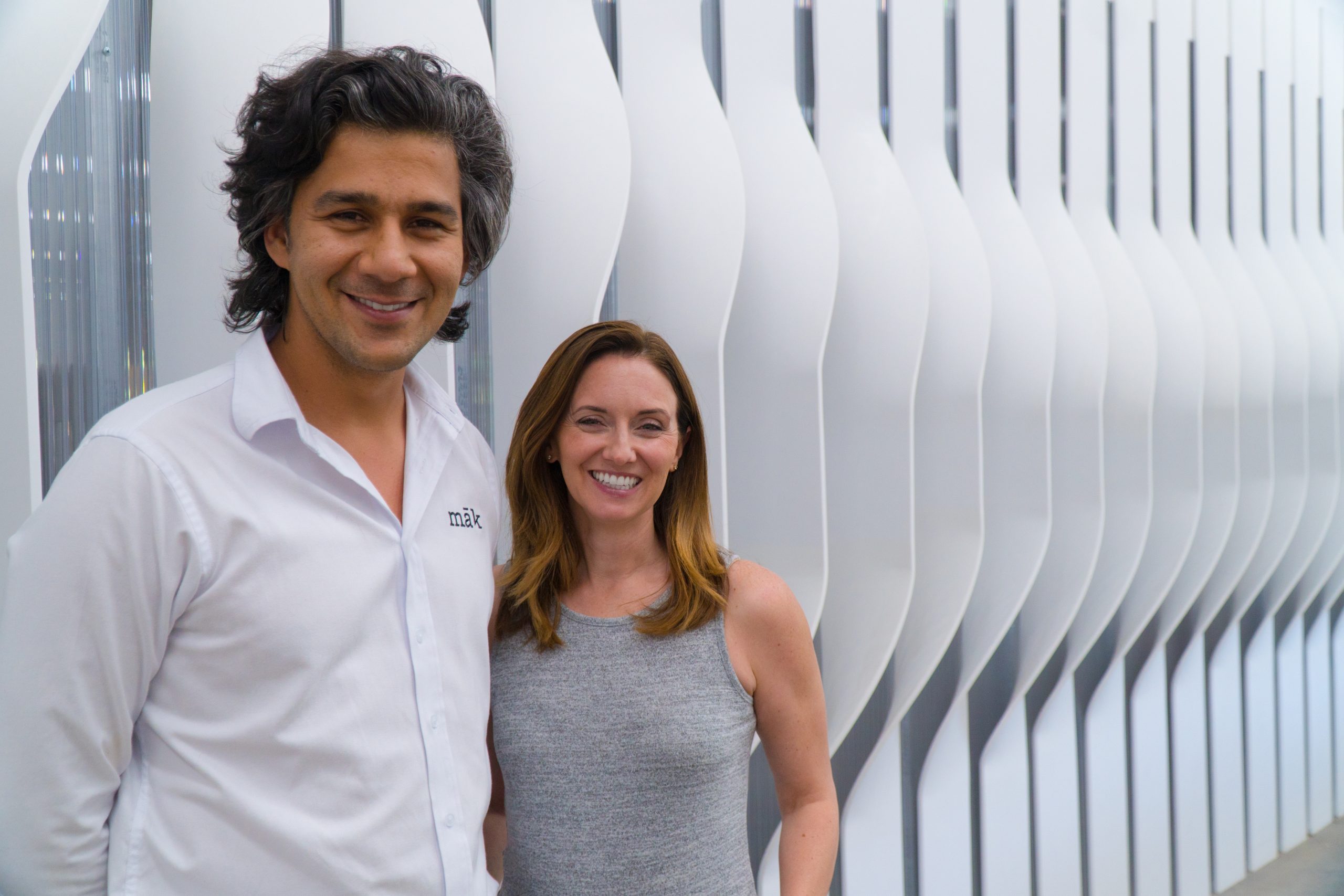 Cordill and Aguilar started with one machine and grew into the 16,000 square foot facility they occupy today. A massive fin wall separates their production floor from the front portion of the office and showroom where the design and prototyping happens. They can take a concept directly from CAD file to physical form using the array of tools at their disposal – from CNC routers to thermoformers – without leaving the building.
Gigabot enters the building
māk studio is a team of architects, industrial designers, interior designers, carpenters, and fabricators; conceiving and creating custom concepts is their specialty. Sometimes, the toughest part of the process can actually be the sale.
The architecture industry used to rely on line drawings to communicate building concepts – a format that Cordill said could be exceptionally difficult to wrap one's head around. The industry was quick to jump on the 3D train, taking their work into the realm of CAD. But for as photorealistic as these architectural renderings can be, these too are subject to interpretation, says Cordill.
This was something the architecture industry had remedied with hand-built models. "We used to actually build physical models, with cardboard and chipboard and things like that," recounts Cordill. And while māk wanted a medium that would allow their clients to accurately understand how a particular feature would look and feel in their space, the time sink of laboring over a cardboard model for hours or days didn't make sense.
The same issues apply to the custom furniture that māk creates today. In order to solve this issue, they turned their sights to 3D printing and ended up getting a Gigabot.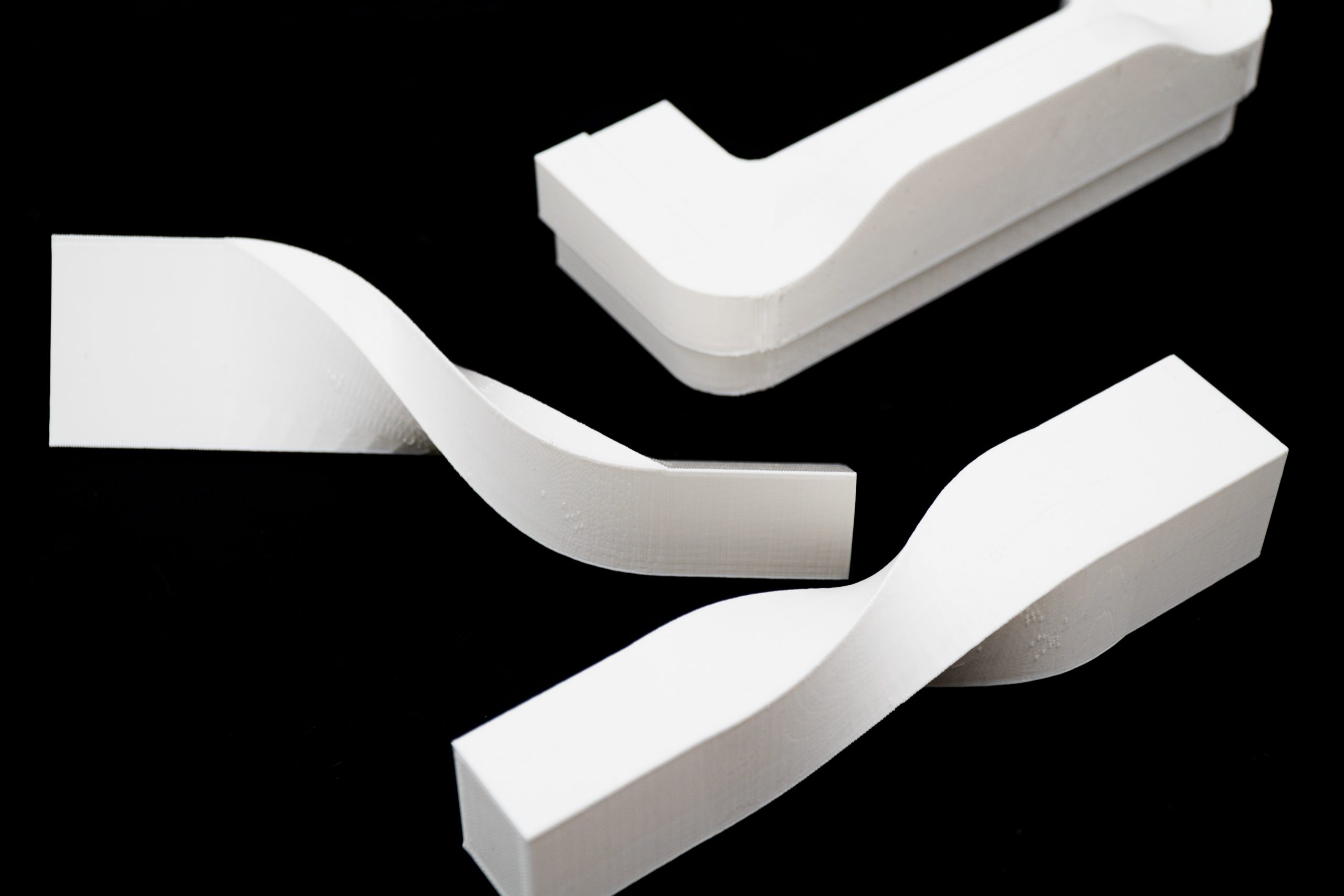 "Having the 3D printer is much more valuable because it's a faster tool," says Cordill. "We can set it to work and we don't have a person sitting there cutting cardboard – and themselves – with an Exacto."
A custom wall for the re:3D factory
"The Gigabot is really core to how we do things here," says Aguilar. "From our sales efforts, to our marketing efforts, to actually solving problems for our clients."
One of Mak's recent customers was none other than the re:3D Houston factory.
"Designing these walls is a lot of fun." Polli Bush is Mak's Project Manager. She walked the re:3D team through the māk design portal user interface, aiding us in the design of several iterations of a logo fin wall.
Once we created three versions, we were able to export STL files of each option and print them in-house on Gigabot. The final decision was put up to a company-wide vote, and with the winner chosen, māk got to fabricating.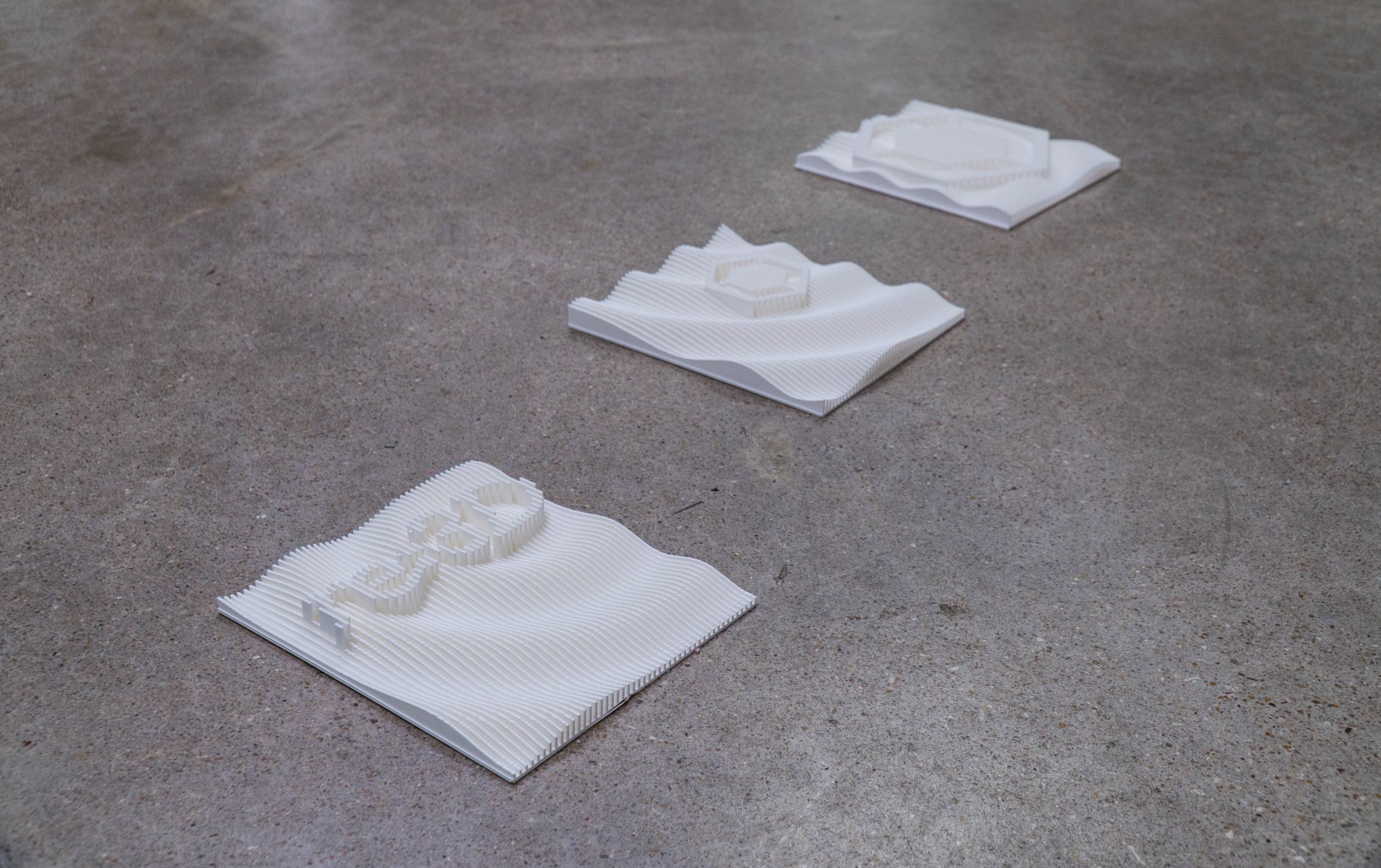 The install took no more than an hour: the māk team put together the mounting system of the wall and showed our group how to slide the wooden fins into place. The rippling design took shape before our eyes as each unique slat was added.
Bush explains how the design process has evolved from the pre-3D printer days at Mak, highlighting their ability to rapidly prototype and create accurate scale models of designs. "The technology of 3D printing makes it a lot easier for people to believe in what they're going to get," says Bush. "It's proof of concept in our industry."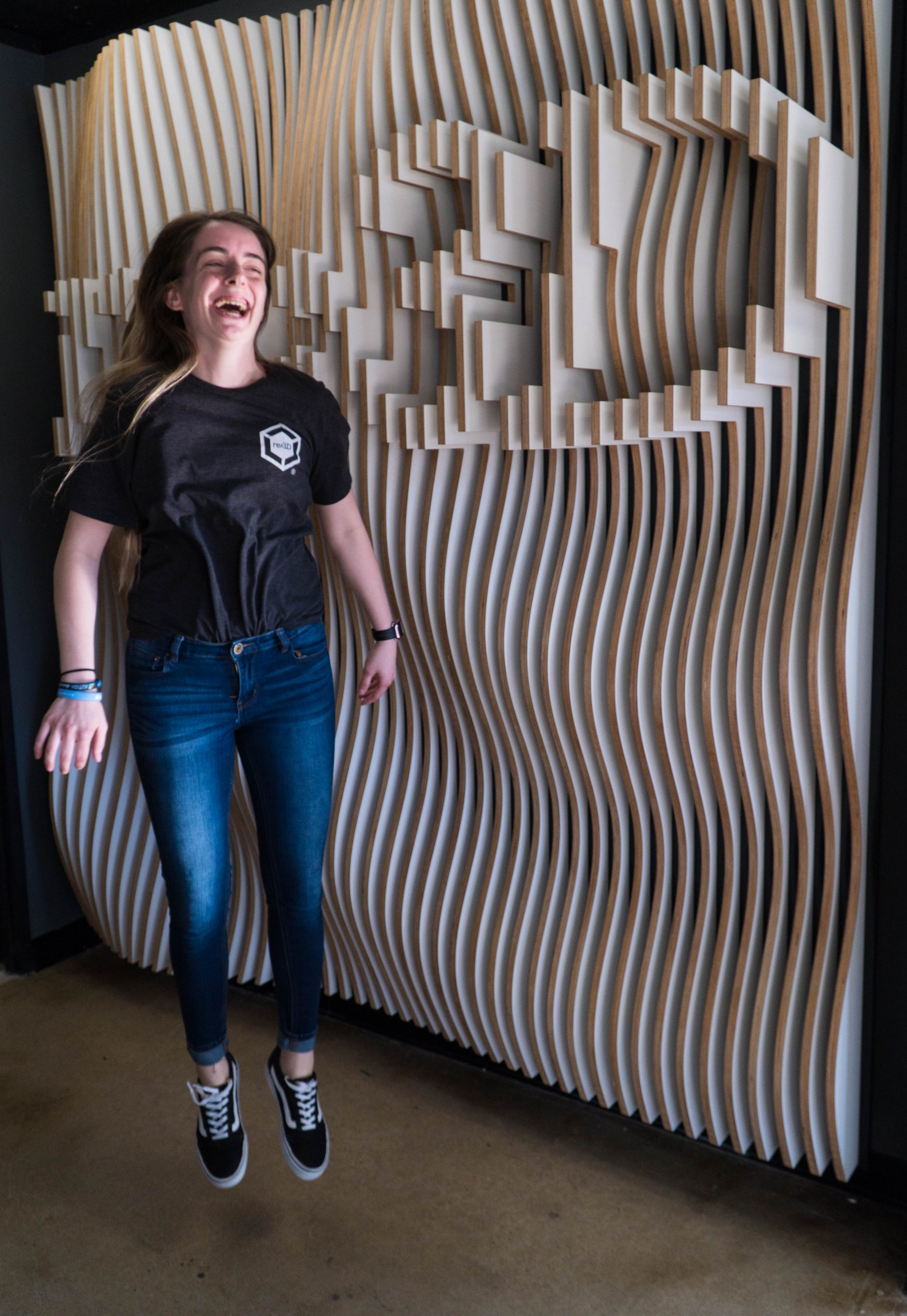 Using 3D printing to solve complex problems
"At the end of the day, we're problem-solvers for our clients," says Aguilar.
māk does everything in their power to make their clients visions into reality, using the arsenal of cutting-edge production tools at their disposal. Gigabot fits into this lineup of problem-solving machinery, but Aguilar explains that it can also serve as a check for them.
"We've got clients that come up with some really cool stuff, and sometimes it's very complicated to build," he says. "If we can't 3D print something, most likely it's gonna be really, really hard to actually make it in bigger components. So it actually keeps us in check. If we can 3D print it, that means that we have the logic to actually build it."
On the other hand, he remarks, if they have major issues with 3D printing scale models, it can serve as an initial sign that perhaps the design needs to be reworked.
Gigabot can also bridge the gap where other production tools may falter. Aguilar tells the story of a custom light fixture they're working on with a client, where 3D printing is serving a role in producing the final piece. "We're studying the idea of doing this faceted light that would be really hard to do without printing," he says. "It would be very, very time-consuming and it would make the project unattainable."
Camilo Reinales is a Designer and Fabrication Assistant at māk working on the light project. "This custom light opened the idea of 'maybe we don't need to use the traditional fabrication methods, maybe we could start exploring additive manufacturing alternatives.'"
They're experimenting with printing the pyramidal structure of the fixture in PLA and casting in metal. "For the geometry that it has, it would have taken a lot of time and skill for a craftsman to create," explains Reinales. "But with 3D printing, the cool thing about it is that if you can model and print it, like 75% of the job is done."
They printed a functional scale model at 75% infill – a 37 hour print – so they could actually hang items from the structure as they go through testing. The final light will be twelve by fight feet.
Bigger, faster
Aguilar muses about his journey from small, desktop printing in architecture school to where they are now at māk . "I always want to print a little bigger, a little faster. This was a really great aspect of Gigabot."
The technology is now so enmeshed in their process Aguilar can hardly picture a time before 3D printing. "[Gigabot] is kind of core to our DNA how we do things here," he reiterates. "It's just part of the process. Every project is somewhat touched by [it] right now."
Cordill reflects on how 3D printing has enabled them to offer products and services to a wider swath of clients. "You can see some of these sort of fancy designs and people think, 'Oh, that's really, really expensive. I can never have that in my space,'" she muses. "But our goal is to really make it more accessible to everyone, so that you've got access to creating something unique that's your own, using these design tools."
It's clear that at the core of māk is a desire to continue pushing the boundaries of what is possible in their field – after all, that is how the company came to be in the first place. They accomplish this with a pioneering mentality and a pursuit of new tools and technologies that enable the creation of ideas that would otherwise remain unmakeable.
On the relatively recent addition of 3D printing to their production floor lineup, Aguilar muses, "It really has helped us keep up with where the industry is going, where the technology is going, and how do we invest in this technology in the future?"
Learn more about māk studio: https://www.makstudio.us/