In October 2019, re:3D was honored to win the Startup of The Year competition at the SOTY Summit in Memphis, TN. The Startup of the Year team has been incredibly supportive since our win, and one of the great opportunities they provided us was to showcase Gigabot X, our 3D printer which prints with pellets, regrind and shredded plastic waste, last week at the Consumer Electronics Show (CES), in Las Vegas, NV.
You may remember the epic road trip that we took to get our team to CES last year (there were aliens involved!), and though this year we traveled in a slightly more conventional way, there were still plenty of laughs, mind-blowing tech and of course chats with new friends about #3DPrintingWithPurpose.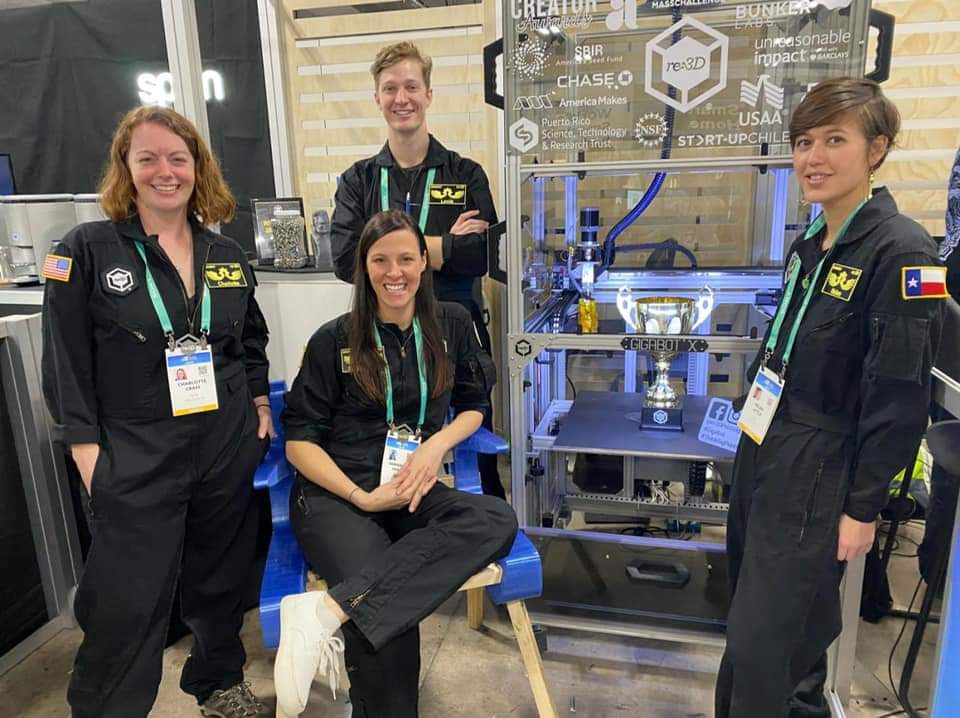 We exhibited in the 3D Printing row in Eureka Park at the Sands Expo, sandwiched between fellow 3D printing innovators, Plasmics and coffee gurus, Spinn. No, Spinn doesn't 3D print their coffee, but it was, as the kids would say, dank!!
All week our booth was packed with visitors from around the world, initially drawn in by Gigabot X's huge build volume and staying to learn more when we told them we were printing rockets with 100% Recycled PET pellets. Recycling and reusing plastics in 3D printers drew companies interested in sustainability, and we were thrilled to share that because of our partnership with Habitat for Humanity, our 3D printed chair was using 100% reclaimed materials: the rPET sides were supported by wooden slats made from unused scrap wood donated to the Habitat for Humanity ReStore.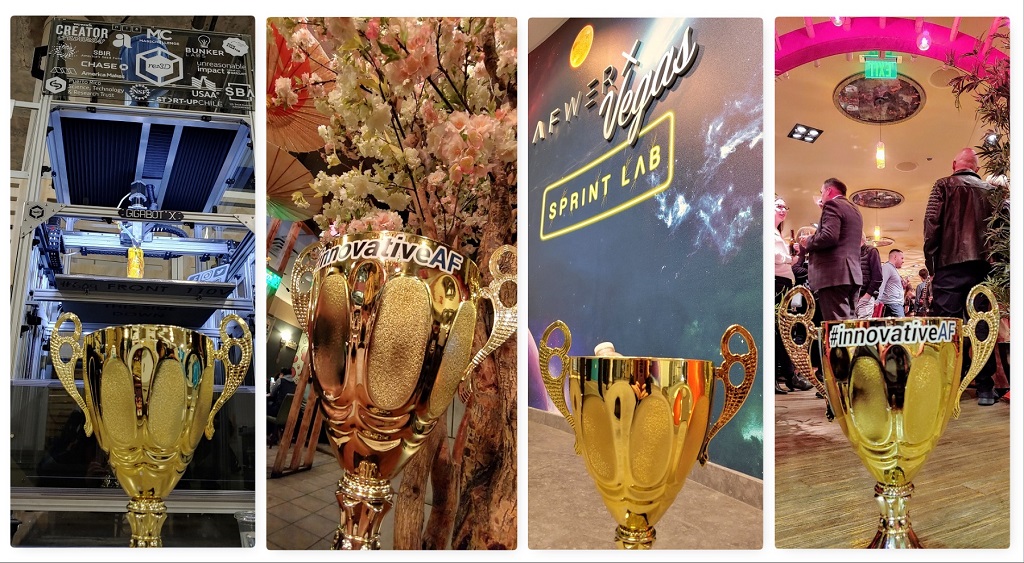 The Startup of the Year trophy was our constant companion as we traipsed around Las Vegas, providing treats from its gilded cup to curious onlookers like some sort of bountiful cornucopia. Above, it graces our booth, an all-you-can-eat sushi restaurant, AFWERX Vegas and the Hackster.io party.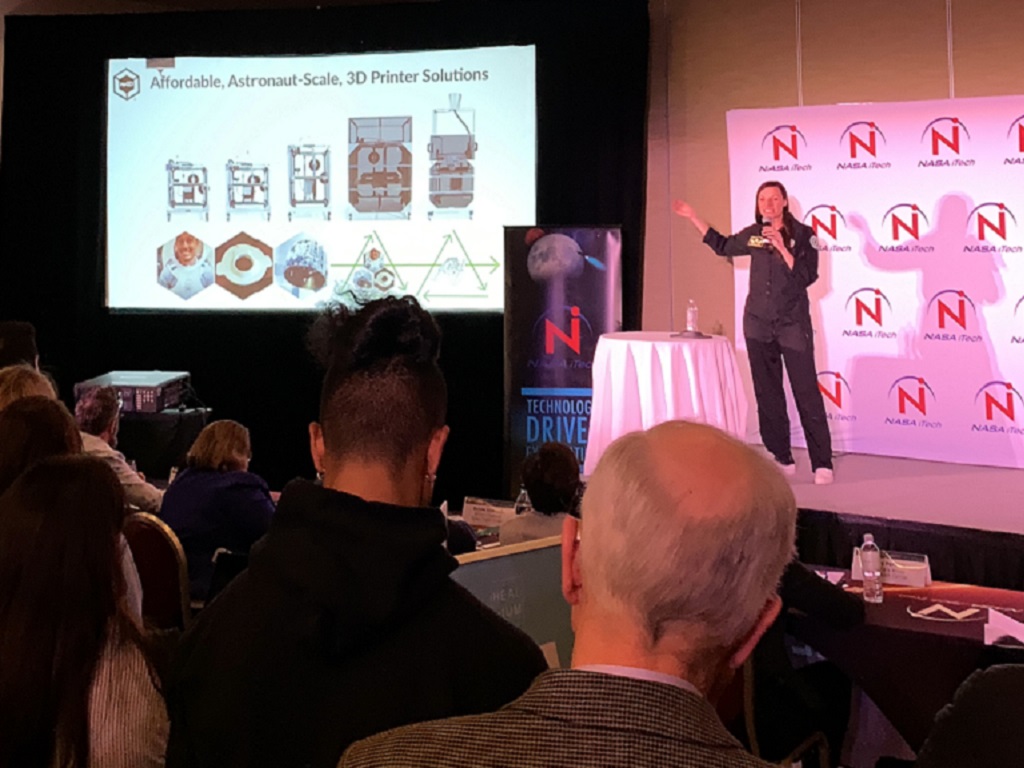 We joined an innovative group of technology startups to pitch at the NASA iTech Ignite the Night competition. co-Founder and Catalyst, Samantha Snabes shared our goals to put a Gigabot X in space as a means to recycle plastics into new tools for astronauts. We are thrilled for winner Otolith Labs who has created a wearable to reduce vertigo in astronauts. Many thanks to NASA iTech for the amazing opportunity which led to great conversations and potential collaborations to come!
3D Printing nerds that we are, we had a chance to check out what the rest of our industry friends were up to. Here's a sample of gems from around CES:
Finally, some of us had the honor to volunteer as judges for the IEEE Entrepreneurship N3XT Stars Competition, which we won in 2018. From all the startups in Eureka Park, five finalists who most embody IEEE's mission to foster technological innovation and excellence for the benefit of humanity were chosen and then narrowed down to three winners. Check out the new N3XT Stars: Longan Vision, Safeware, and Waverly Labs!
Thanks to all of our customers who stopped by for a high five and to all the new friends who helped spread our #3DPrintingWithPurpose mission throughout CES and beyond. Until next time, Vegas!