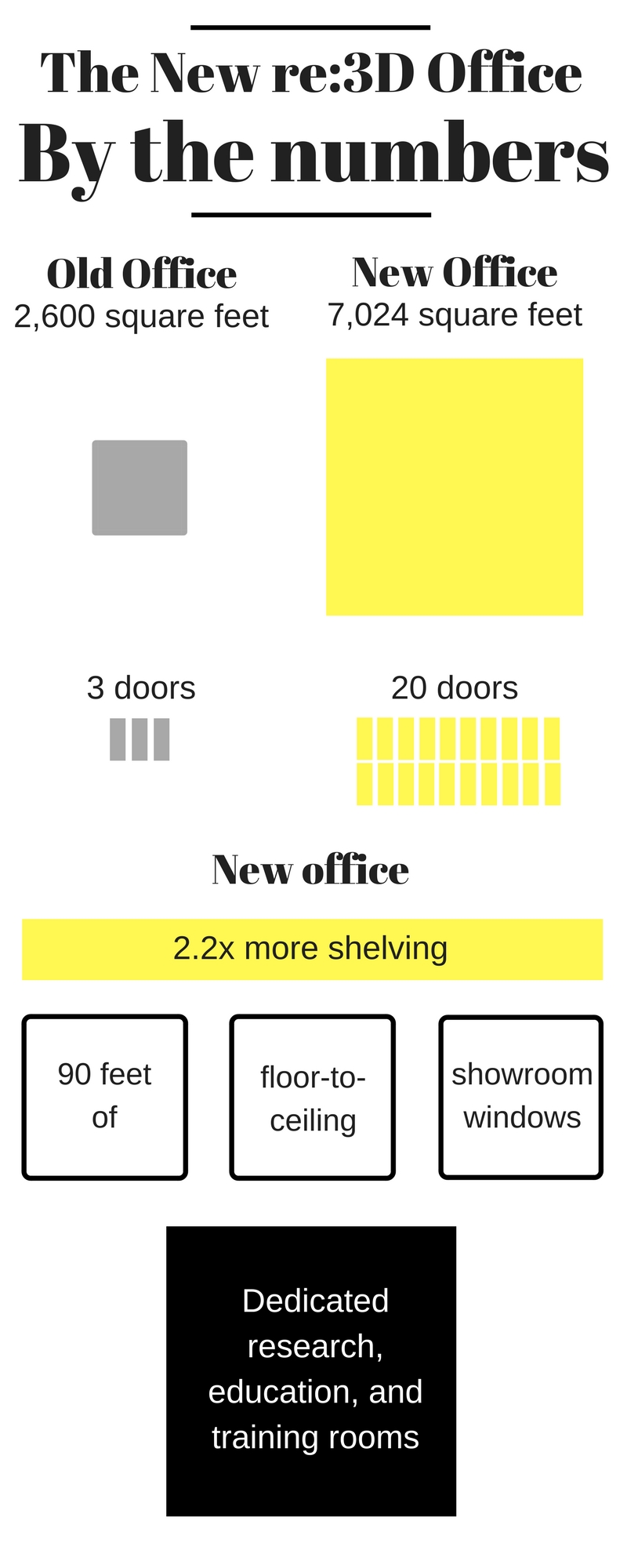 You may have heard the word on the street: re:3D has upgraded to a bigger, badder office space in Houston.
We outgrew our old spot some time ago and have been biding our time waiting for the right place to relocate Houston production and operations. The wait paid off: the new digs are just down the street from our previous spot, and the ample space is a much-needed upgrade from the nest we had grown too big for.
We know everyone is dying to know the exciting, nitty-gritty details of this new office (sarcasm), so without further ado: the exciting, nitty-gritty details of our new office!
The biggest difference is the physical space. The Houston team is overjoyed to have some much-needed elbow room and private desks. We've now got over 2.5x more space – a big bump from 2,600 square feet to just over 7,000.
You may have seen our photo a few weeks ago of some slick-looking doorstops we printed – they're coming in handy with the 17 extra doors we're dealing with.
More shelving means more inventory means less running out of popular filament means less waiting for you! We've got 2.2x more shelf space – somewhere around 85 linear feet.
Our previous office didn't have any dedicated rooms for education, training, and research – that's changing. The new space will come in handy for R&D projects, workshops, and on-site training at our facility.
The crown jewel of the office, however, is right at the front door – the area we're calling "The Showroom." The entire front wall of our new space is windows – 90 feet of them – where we'll be showcasing bots and interesting applications of Gigabot.
We hope to see some of you in person once we're fully up and running for the public!