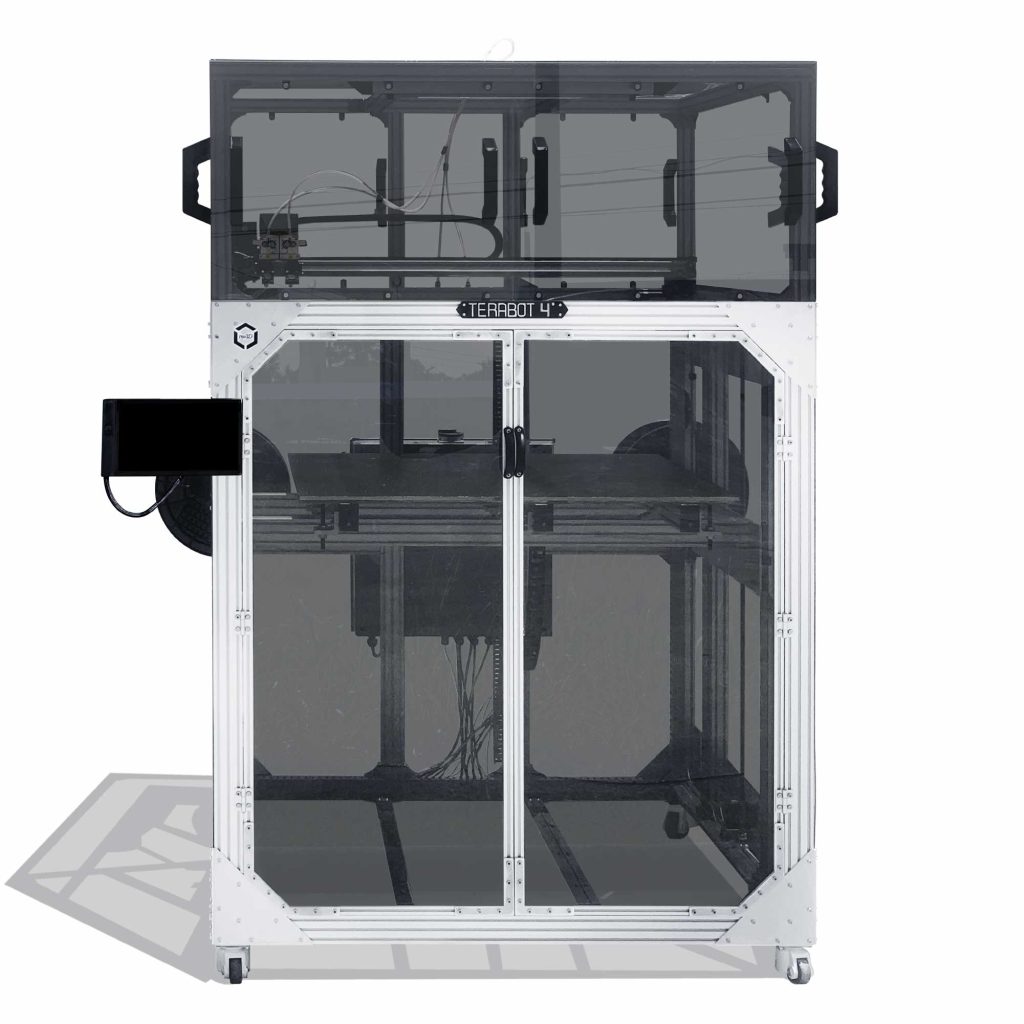 Out of filament detection
NEMA 17 & 23
stepper motors
0.5" Aluminum Heated
Bed with PRINTinZ
Full Color 10"
LCD Touchscreen
with Mainsail for
Klipper

interface
Optional Enclosure with
Removable Panels
32bit ArchiMajor
Control Board
To tackle enormous 3D printing with accuracy, Terabot 4 levels-up the industrial components included in your 915 x 915 x 1000mm build volume 3D printer. High torque NEMA 23 stepper motors power X and Y movement and linear guides mounted on the durable, precision-built frame ensure successful 3D printing at the human-scale.
With a standard full enclosure with removable panels, you can print from thermoplastic filaments that melt below 320ºC, and Terabot 4's high flow 20 Series Hot End and hardened steel nozzles enables faster, accurate printing with complex composites like carbon-fiber filled polymers in addition to traditional filaments.
Your open-source industrial 3D printer is powered by a 32bit Ultimachine ArchiMajor control board and Klipper firmware run on a Raspberry Pi. Access Gigabot controls via the Mainsail interface on either the 10" LCD touchscreen or a desktop or mobile web browser.
Hand-crafted in Texas by team re:3D to highly precise standards, your Terabot 4 is modular, upgradable and backed by Lifetime Customer Support.
Build Volume
915 x 915 x 1,000 mm
Hot Ends
Compatible with hardened steel & 20 Series hot ends
Materials
Supports thermoplastics melting below 320ºC
Layer Resolution
70-600 Micron
Printing Speed
Up to 60 mm/sec XY
Nozzle Diameter
0.25, 0.4 or 0.8 mm
Construction
Robust aluminum cartesian frame
Build Plate
Cast aluminum blanchard ground flat 0.5" thick build plate
Stepper Motor
NEMA 17 & 23
Bot Control
Full color 10" LCD Touchscreen with Mainsail for Klipper interface
Connectivity
Optional network connecting for local monitoring & control
File Transfer Method
USB or Wifi
Open Source
Open source Klipper software stack
Upload File Type
G-code (.gcode) upload file type
Printing Workflow
Includes Simplify3D setting profiles
Power
110V 60Hz 20A or
220V 50Hz 10A
Extruder Temperature
Up to 320ºC
Build Surface Temperature
Up to 115ºC