There are four videos throughout this post – scroll through to watch the full story.
If you ever find yourself driving through the Clear Lake City community of Houston, keep your eyes open for an interesting McDonalds. Looming in the sky on East NASA Parkway next to the golden arches is a giant astronaut, advertising the "Play Space" area of the space-themed establishment.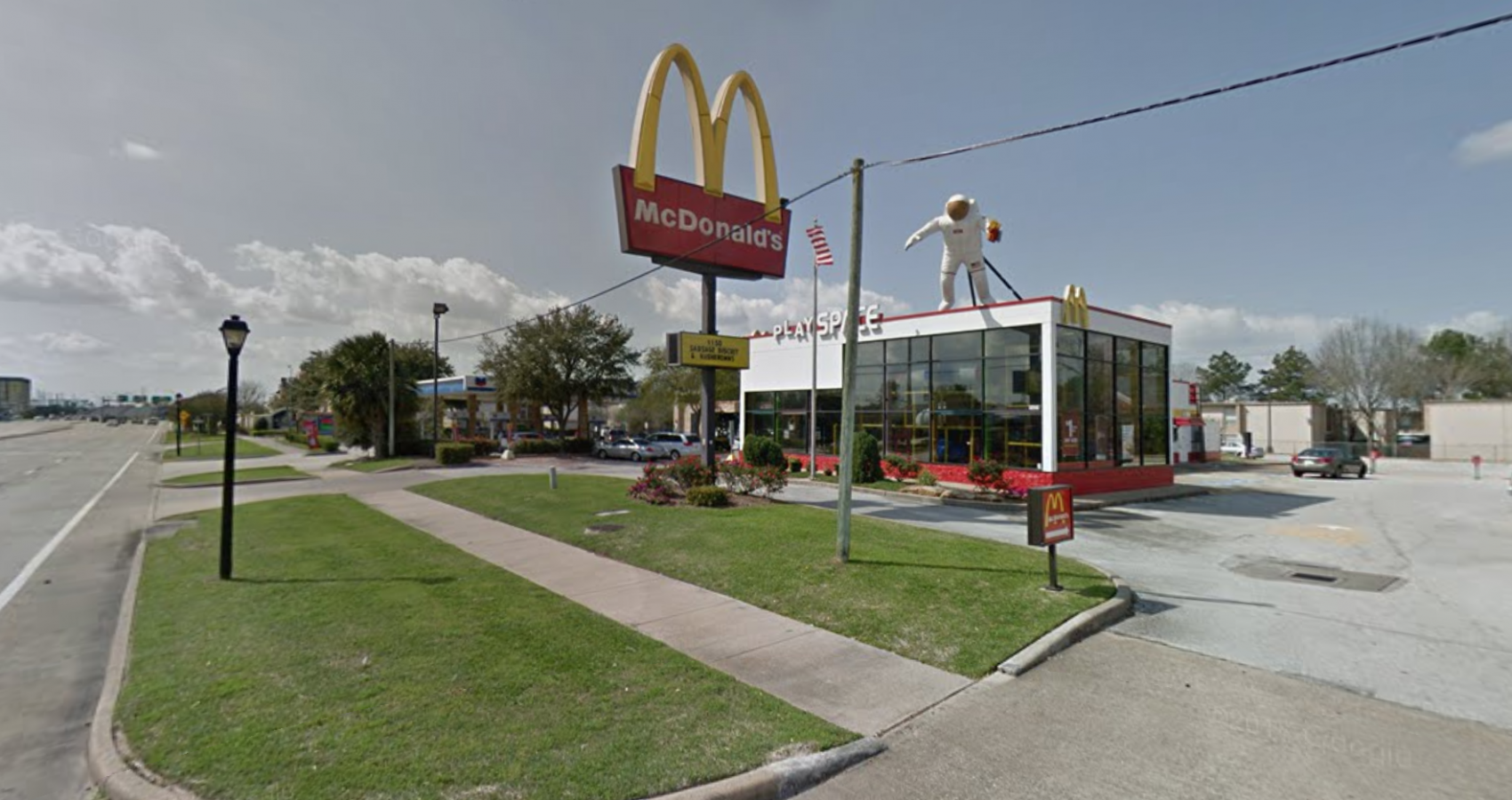 It's commonplace in the neighborhood, which is infused with the culture of a local celebrity, the NASA Johnson Space Center. NASA's Manned Spacecraft Center is down the street from another couple of locations which you may be familiar with: the re:3D Houston HQ, and the subject of today's story: the Clear Lake City-County Freeman Branch Library.
It's only fitting given the local climate that this library would be an innovator in its space. Walk upstairs and you'll find an unexpected surprise nestled among the bookshelves on the second floor: a makerspace.
The library has found itself among the first of its kind leading the charge to reinvent the literary institutions as a hub for community creators to access cutting-edge technology. Named the Jocelyn H. Lee Innovation Lab, the space was made possible thanks to an extremely generous individual donation.
Jim Johnson was the Branch Manager of the library during the shooting of this story last year, and and now works at Harris County Public Library's administrative offices.  "It started all the way back when we received a notice about a bequest received from Mr. Jocelyn H. Lee in 2013, and actually found out exactly how much he was giving us in 2014," he explains.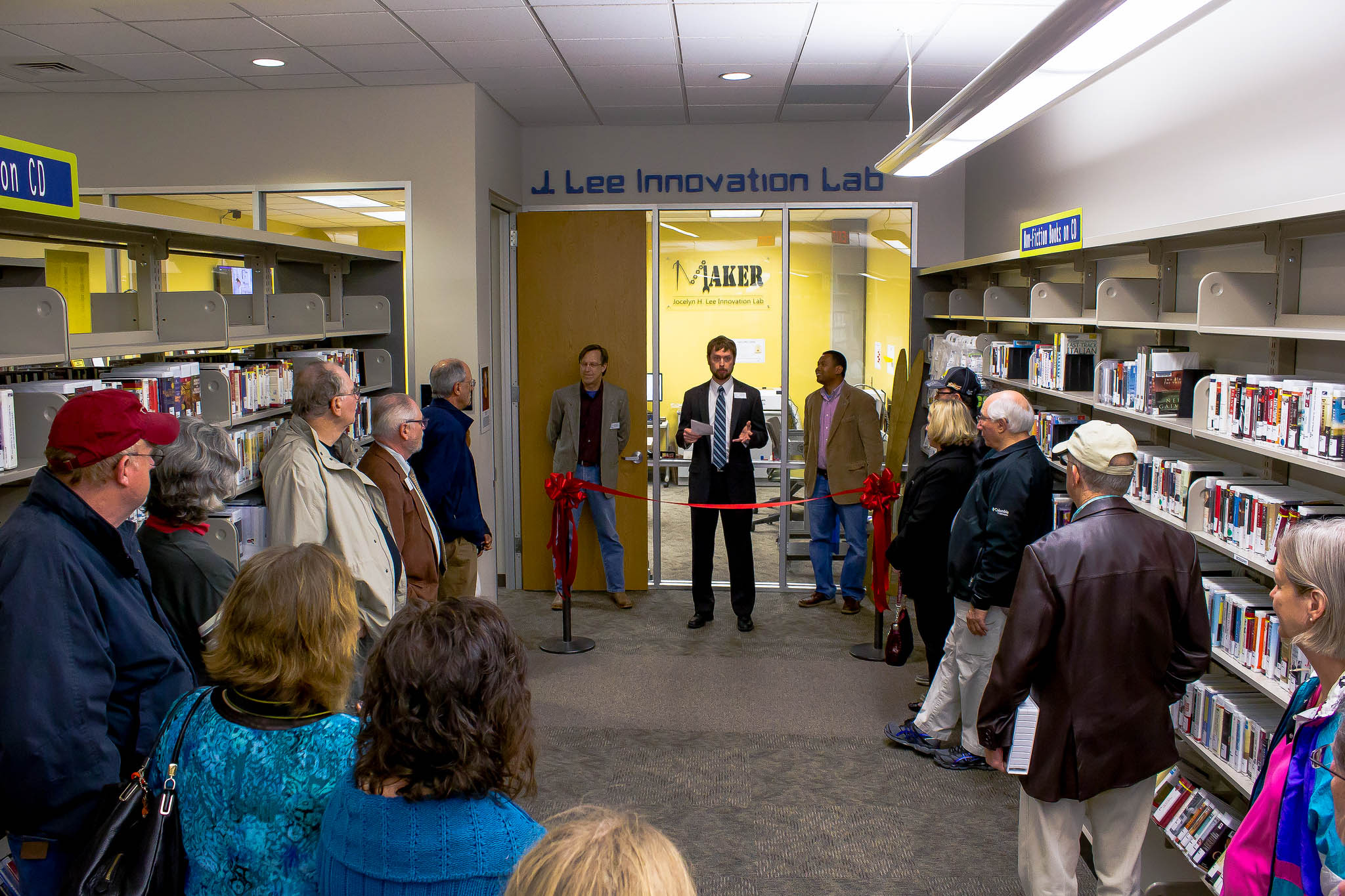 The sizable sum allowed them to put plans in place to purchase equipment and cordon off an area for the lab. They officially opened the doors to the makerspace in February 2015. The lab boasts a variety of equipment, from a CNC to laser cutter, soldering stations to dremel tools, Arduinos and Raspberry Pis, and of course, 3D printers – the largest being a Gigabot. "3D printing tends to be a cornerstone feature of the lab," says Jim.
All the equipment and classes offered by the lab are free of charge to the community.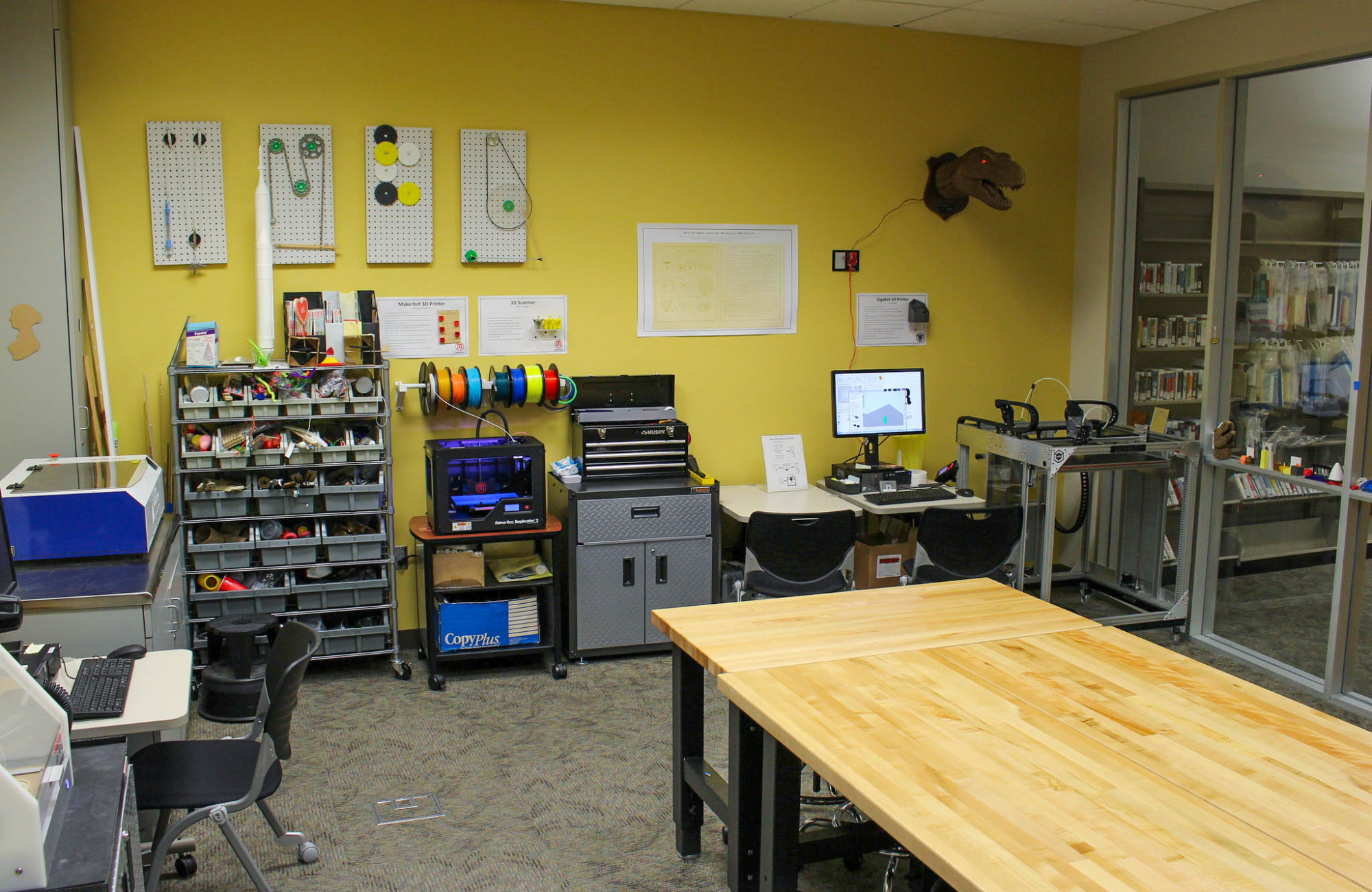 "With us being based in the Houston area and right near NASA, we've got obviously a lot of engineers in the area, and a lot of engineers' kids," Jim explains. "This space tends to focus on STEM activities: science, technology, engineering, and math."
Some of the groups taking advantage of the lab are local robotics teams and home-schooled groups of students. One such group is FTC 8668: Error 404, Team Name Not Found, a local FIRST Tech Challenge robotics team comprised of high school home-schooled boys.
Error 404 Coach Clarissa Belbas saw a big opportunity in the lab's capabilities, and in a true demonstration of "mothers always know best," urged the team to consider incorporating 3D printing into the design of their robot. "At the end of last season, I kept saying, 'Guys, there's this Gigabot at the library. We could print the whole chassis in one piece!'"
The boys didn't bite, protesting that the printed version wouldn't be strong enough, so Clarissa took matters into her own hands. She visited the lab on her own, using Gigabot to print out a small, proof-of-concept of their robot's chassis to show the team. They were sold.
"There haven't been any other teams that we have seen that have had their robot completely 3D printed," says Nick, a programmer on the Error 404 team. "Having a 3D printed robot and a good engineering log helps to make us stand out to the judges."
It's also proven to be quite the teaching tool. "For me the point was educational," explains Clarissa. "Because that's the way that it is in the real world: you truly design something before you manufacture it." Forced to flesh out a part on the computer through CAD before printing, the team learned the lessons of design cycles, prototyping, and manufacturing.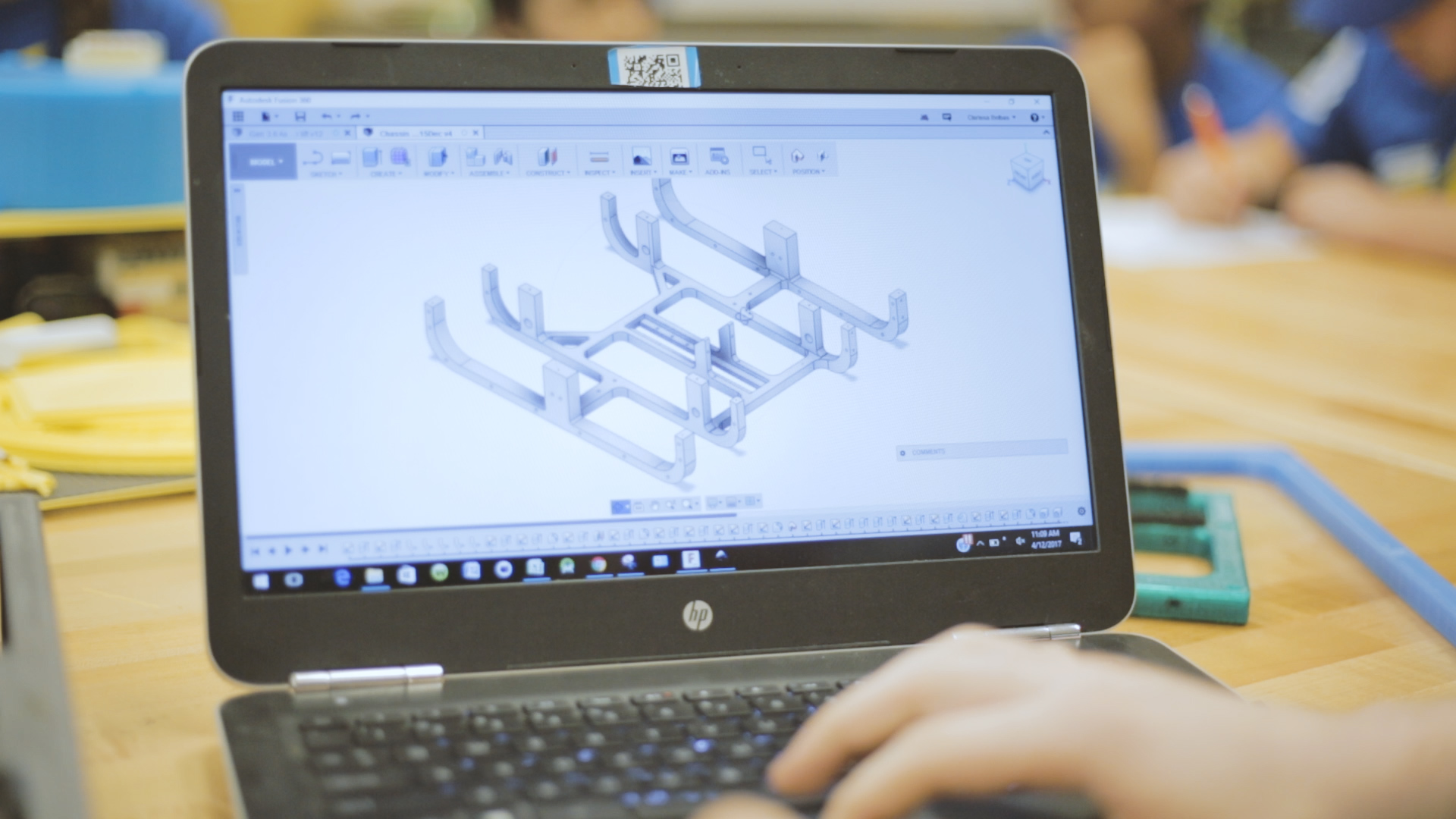 Having access to a large-scale 3D printer has been crucial to the team's robot design.
"Our first year as a FIRST Tech Challenge team, we had a really small 3D printer that we got as a grant; only had like a five inch by five inch by eight inch print area – absolutely tiny," recounts Nick. "When we saw the Gigabot here at the library, that's when we had the idea of printing out our entire chassis, because we'd be able to make it all in one piece, and that made it a bit more structurally sound."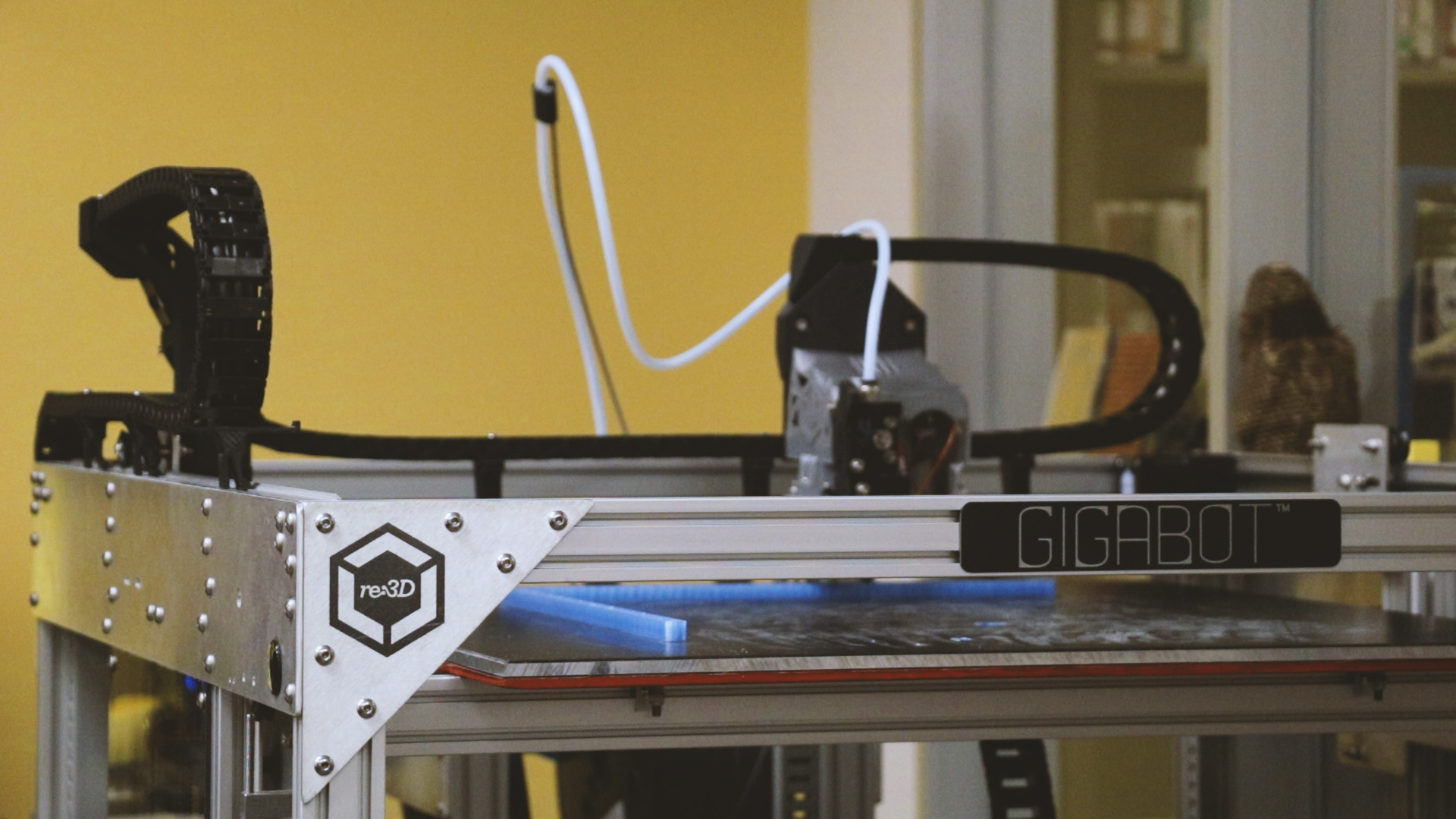 In addition to strength, the 3D printed chassis affords them more mounting opportunities for their robotics challenges, a more compact electronics section, and a far cheaper alternative to the aluminum they're typically forced to buy for competitions. Clarissa explained that where one small piece of aluminum channel may run them $15 – "You don't know how much you put into this" – they can get several iterations of their entire chassis out of a $30-40 roll of PETG. 
While Error 404 is currently leading the pack in 3D printed robots, Clarissa sees things trending in this direction. "There have been a lot of teams that have come and said, 'Wow, that's a really great idea. We want to do that.'" The only issue, she explains, is printer size. "A lot of teams say, 'Well, our printer isn't that big,' and 'Where did you get a printer that big?' A lot of people don't have access to a Gigabot."
That's something that the library is trying to change.
"We've got small business entrepreneurs who use this space, inventors, we have International Science Fairs winners who've come through here…many, many different kinds of projects that take place in this space," Jim muses. "We really want it to be a space for the community and for them to sort of define what they want it to be."
Another group making themselves comfortable in the lab is the FLL Thunderbolts #17355 robotics team.
This home-schooled FIRST LEGO League robotics team has also been taking advantage of the lab's 3D printing capabilities for their robot, which is unusual for their division. "Not a lot of teams 3D print at this level," explains Thunderbolts team member Tyler. "We thought we'd probably stand out a lot."
And stand out they have. "This is only our second year as a robotics team and we're going to World," says teammate Israel. The FIRST World Championship is the culmination of the FIRST LEGO League, FIRST Tech Challenge, and FIRST Robotics Competition. "It's the best of the best," explains Nick from Error 404.
The Thunderbolts' challenge was to design a product for animal-human or animal-animal relationships. They chose the problem of multi-dog families where a dominant dog eats the others' food. Underwhelmed by the solutions available on the market, the team designed The Thunderbowl, a food bowl that opens and closes based on a bluetooth tag attached to a dog's collar. Multiple types of food can even be enclosed in the same bowl, revealed in different compartments depending on the tag sensed.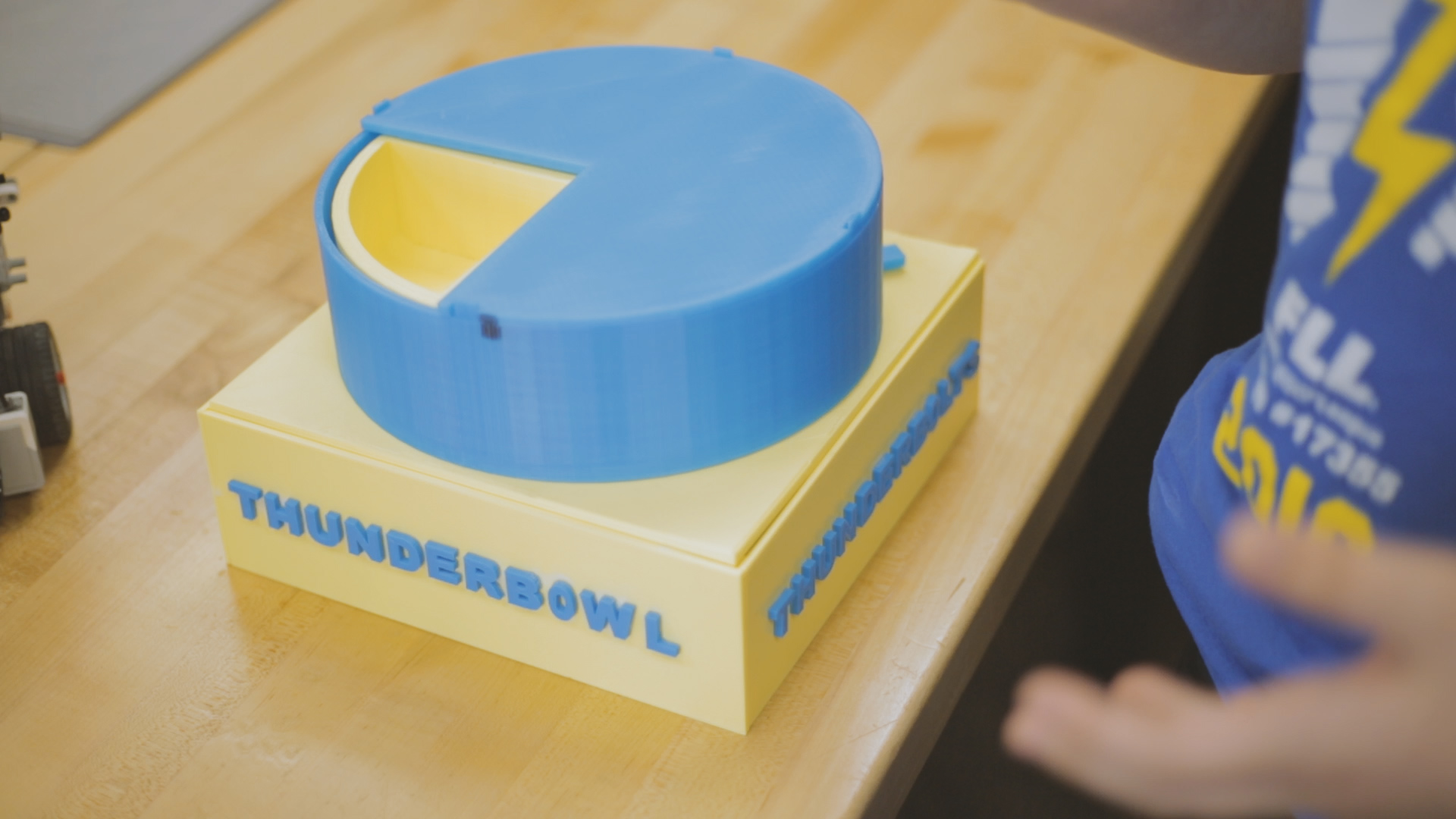 The team started their prototyping process with paper plates, then moved to LEGOs, and finally graduated to 3D printing. In addition to helping them stand out among the competition, the 3D printed model is welcomed by many of the teammates for its durability.
"When our Thunderbowl was just a prototype in LEGOs, our job was to fix it whenever it broke, because it broke quite a bit," says Abigail, another Thunderbolts team member. "That's what I love about the 3D printing is it doesn't break."
Thunderbolts Coach Kris Lee admires the power of 3D printing to enable the kids to turn ideas in their heads into tangible objects. "We teach them the skills of CAD…and all of a sudden that idea is real," he muses. "It goes from an idea to in their hands. That's something I didn't have when I was a kid."
Jim also found continued wonderment in the projects that came out of the library's lab through the years he worked there. "I've been amazed at a lot of the things that have come out of this space," he says. "I am not an engineer myself, and one of the things I was looking forward to most about this space was seeing what people were going to do, because my imagination was very limited."
Imagination now abounds on the second floor of the library. "There are ideas and plans in the works to expand the space due to the amount of usage it's received over the last two years," he reveals. "The sky is the limit."
A fitting attitude for the NASA-neighborhood library.